Red Card Guest Worker Permit proposal supported across partisan and demographic lines
POS/Ciruli poll
5/2/2013, 3:41 p.m.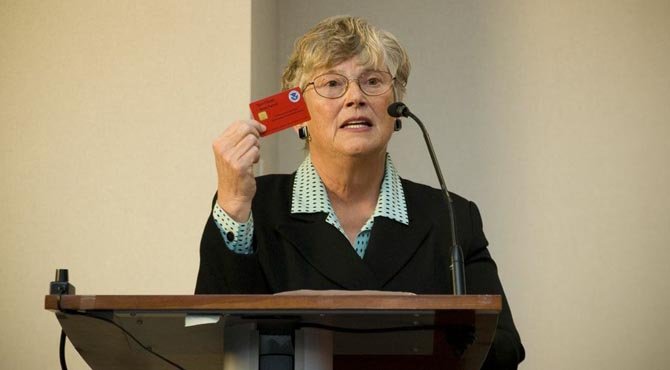 WASHINGTON, D.C. -- The number of guest workers allowed under any immigration reform bill should be determined by employer demand and not government quotas according to a new national poll released today. The poll was conducted by Public Opinion Strategies and Ciruli and Associates, and sponsored by the Vernon K. Krieble Foundation.
When asked whether private employers or the federal government should determine the number of guest worker permits made available and distributed to non-citizens, 65 percent said employer demand and the need for guest workers to fill jobs that cannot be filled by American workers while 27 percent said the federal government should set quotas on the numbers of jobs filled by guest workers.
"It is very clear from this national poll that a workable, employer driven guest worker program is the cornerstone of any immigration reform," said Helen Krieble, founder and president of the Vernon K. Krieble Foundation. "We need to get this right with employers, not government quotas, determining the number of guest workers."
The Vernon K. Krieble Foundation has created an employer driven Red Card Guest Worker Permit proposal (http://www.redcardsolution.com/) and the poll tested six critical components of Red Card:
• Require guest workers to pass a security background check and have a job before coming into the country, 90 percent favor, 9 percent oppose.
• Receive a guest worker permit "smart card" that includes a photograph of the worker, employment information, and biometric data such as fingerprints, 85 percent in favor, 14 percent oppose.
• Guest workers would be able to renew their work permit without leaving the U.S., 83 percent in favor, 16 percent oppose.
• The guest worker permit smart card would be for a set period of time and have an expiration date, 81 percent in favor, 16 percent oppose.
• The guest worker permit program would be a way for non-citizens to legally live and work in the U.S. and provides no special treatment or advantage toward citizenship which is a completely separate process, 76 percent in favor, 21 percent oppose.
• Guest workers would be able to switch employers without having to reapply for a new work permit, 59 percent in favor, 40 percent oppose.
Overall, 79 percent said they would support an employer driven guest worker program such as Red Card while 19 percent opposed it. Strong support existed in all four regions of the nation with 73 percent favoring the proposal in the Northeast with 25 percent opposing; 80 percent to 17 percent in the Midwest; 83 percent to 16 percent in the South; and 79 percent to 18 percent in the West.
Strong support also was found among all ethnic groups with the highest being among Hispanics/Latinos. Whites supported the proposal 77 percent to 20 percent, African Americans 85 percent to 15 percent, and Hispanics/Latinos 87 percent to 12 percent.
Voters also strongly agreed that "The best way to get control of our border is to have a system for handling guest workers. Without a guest worker program, we are just inviting more illegal border crossings" with 71 percent agreeing with that statement and 26 percent opposing.
Also of interest