Maryland: Dozens protest Governor's deal with federal immigration officials
People marched around the governor's mansion in Annapolis
By Ovetta Wiggins/The Washington Post | 8/13/2015, 10:59 p.m.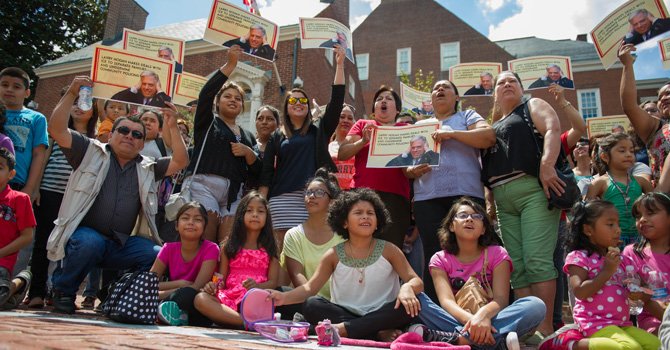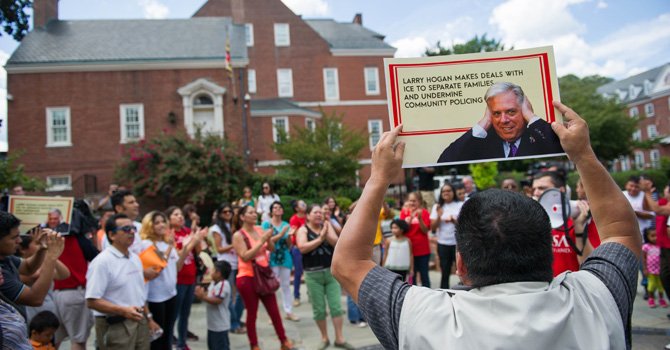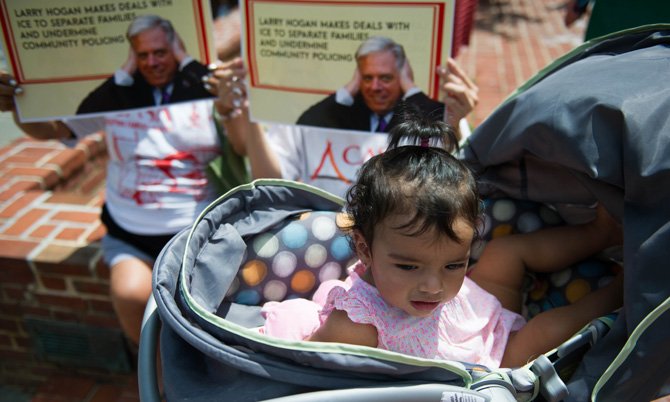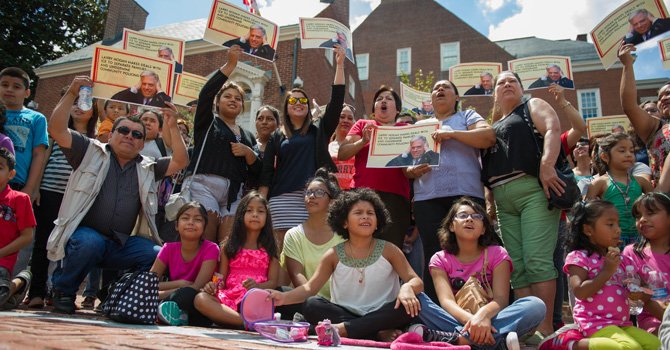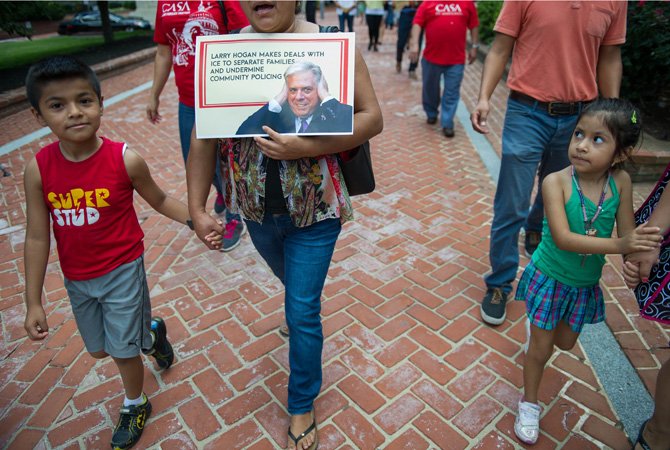 Dozens of people of all ages marched around the iron fence surrounding the governor's mansion in Annapolis on Thursday, protesting Maryland Gov. Larry Hogan's decision to notify federal immigration officials when an undocumented immigrant targeted for deportation is released from the state-run Baltimore City Detention Center.
They chanted in Spanish: "The people united will never be divided" and "We are in the fight."
They said they hoped to compel Hogan (R) to reconsider his decision, which was made with no fanfare shortly after he took office in January. Advocates worry that the action could lead to the deportations of people who have not committed serious crimes.
"We want Maryland to remain a welcoming state," said Gustavo Andrade, organizing director for Casa de Maryland, an immigrant advocacy group. "Our community will not be scapegoated, and our families will not be separated so extreme politicians can score cheap points."
A spokesman for Hogan said the advocates are misdirecting their criticism, noting that Hogan is simply complying with a request of the Obama administration.
"Casa wants to make this about Governor Hogan and it's not," Matt Clark said. "It's White House policy."
The Obama administration asked local officials this summer to notify their federal counterparts 48 hours before an immigrant who is being targeted for deportation is scheduled to be released so that agents can move to detain them. The agency says only immigrants who have been convicted of a serious crime, are involved in a gang or are considered a threat to national security would be targeted.
The issue of local governments cooperating with federal authorities in dealing with illegal immigrants has come to the forefront since the slaying last month of Kathryn Steinle, 31, in San Francisco. The suspect in that case, Juan Francisco Lopez-Sanchez, had been released from custody in April by San Francisco authorities despite a request from Homeland Security for the seven-time felon to be detained so that he could be deported back to Mexico.
Advocates say Hogan's decision runs counter to the position taken by former governor Martin O'Malley (D), who refused to cooperate with some of the federal government's immigration enforcement efforts.
They sent a letter to Hogan on Thursday asking him not to comply with the federal request. Hogan has no obligation to cooperate, Andrade said, and many mayors in big cities across the country have opted not to because of questions that surrounded the federal government's previous effort, known as Secure Communities. Under that program, the Department of Homeland Security asked police to hold immigrants it wanted to deport for up to 48 hours after their scheduled release from custody. The program received backlash from advocates and elected officials, who raised legal and civil liberties concerns with U.S. Immigration and Customs Enforcement.
"Until ICE can prove itself worthy of trust, we ask that you decline to send notification to it about release," said the letter signed by about 25 immigration advocates and civil rights organizations. "In light of the enormous federal failure to repair a broken immigration system, we ask that you remain focused on building the strongest local communities possible."