Md. Gov. Hogan says he has 'very advanced and very aggressive' cancer
He will soon begin aggressive chemotherapy treatments
By Ovetta Wiggins and Jenna Johnson/The Washington Post | 6/22/2015, 11:21 p.m.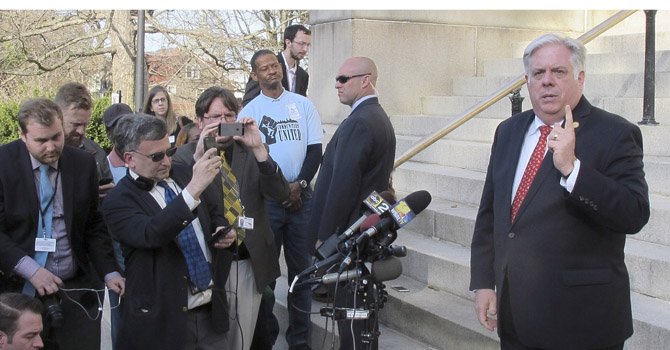 Washington, DC.- An emotional Maryland Gov. Larry Hogan disclosed Monday that he has been diagnosed with late stage 3 non-Hodgkin's lymphoma, which he called "a very advanced and very aggressive" form of cancer.
At a hastily called news conference that felt more like an intimate family meeting, the 59-year-old Republican described the disease as a hurdle that he plans to surmount.
"I'm going to face this challenge with the same energy and determination that I've relied on to climb every hill and to overcome every obstacle that I've faced in my life," said Hogan, who was sworn into office in January after winning an upset victory over then-Lt. Gov. Anthony G. Brown (D).
[What you need to know about the cancer Hogan has]
He said that he will soon begin an 18-week chemotherapy regimen that will begin with four days in the hospital, in the intensive care unit. The governor said he will rely on Lt. Gov. Boyd K. Rutherford to fill in for him on state business and to make decisions for him when necessary — an arrangement that was put in place at least once, when Hogan was under anesthesia for an hour and Rutherford was standing by in case of emergency.
Maryland Governor Larry Hogan (R). (Katherine Frey/The Washington Post)
"Luckily there was no major decision during that one hour I was asleep, so [the] lieutenant governor, he didn't make any crazy decisions," Hogan said. "But he has my utmost confidence."
Hogan said he has no plans to leave office. He vowed to continue trying to advance his agenda, which includes strengthening Maryland's economy and business climate, cutting taxes, overseeing efforts in Baltimore to recover from recent rioting and deciding whether to push forward with long-planned light-rail projects.
"Most likely, I'm going to lose my hair — you won't have these beautiful gray locks. I may trim down a little bit. But I won't stop working to change Maryland for the better," he said, a slight tremor in his voice. "I'll be working hard and making the decisions that the people of this state elected me to make."
The average-guy persona that helped Hogan win over voters in November, when he was a relatively little-known businessman competing against a two-term lieutenant governor, was on full display Monday afternoon.