Argentina and D.C. United matches scheduled for same day at separate venues
Games vs. El Salvador and LA Galaxy will be at 4pm at FedEx Field and 7pm at RFK STadium
Steven Goff/ The Washington Post | 3/1/2015, 1:32 p.m.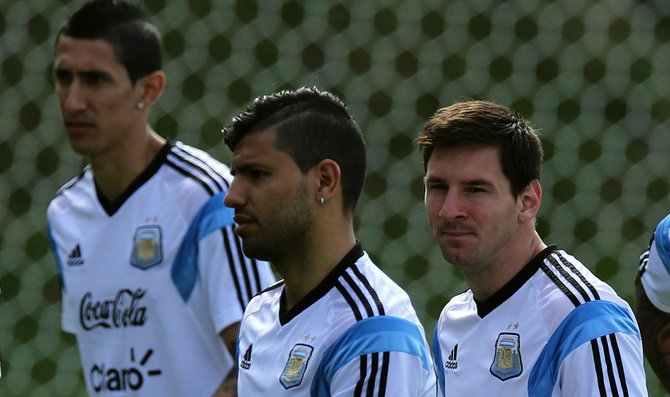 Promoters eager to bring Lionel Messi and the powerful Argentine national soccer team to Washington initially targeted March 27 for a friendly against El Salvador at FedEx Field in Landover. Talks dragged on for weeks without an agreement. Then Thursday, organizers announced the game will take place March 28, a Saturday, which is more conducive to ticket-selling, TV programming and transportation.
Seems sensible, except one of D.C. United's marquee home matches of the MLS season, against the defending champion Los Angeles Galaxy, falls on the same day at RFK Stadium.
The United-Galaxy game, set by the league six weeks ago, will kick off at 7 p.m. The international match is set for 4 p.m.
The stadiums are seven miles apart and on the same Metro lines (although FedEx Field is almost a mile from the Morgan Boulevard station). So conceivably, a fan could attend both. Whether they would be willing to pay two admissions is another matter. The ticket price range to see Argentina is $38 to $175, not including service fees. Tickets go on sale Saturday.
Such conflicts are bad for the local pro team's business, and the U.S. Soccer Federation does have the power to decline sanctioning international matches. However, a USSF spokesman said the Argentina-El Salvador game has been approved.
"Within U.S. Soccer's International Games policies," director of communications Neil Buethe said, "there is no prohibition on staging international games on the same dates or in the same territories as other professional matches."
United officials have yet to comment on the matter.
There does appear to be a financial incentive for the USSF, which collects either 9 percent or 9.25 percent of gross gate receipts, and an additional 13 percent of the balance of receipts after the first $200,000. However, the USSF also says it will "use these fees to cover fees due to CONCACAF."
Last summer, a similar scenario played out: Spain planned to play its final World Cup tuneup at FedEx Field against El Salvador on June 7, conflicting with United's home match that day against the Columbus Crew. The sides ended up negotiating a doubleheader in Landover. To help compensate for lost revenue at RFK, promoters also scheduled a Turkey-Honduras friendly at the East Capitol Street venue.
From a logistical and competitive standpoint, United did not enjoy the arrangement. Its game followed the Spain match, and many of the 53,267 had departed by halftime of the MLS event, leaving large pockets of empty seats in the lower sections of the 80,000-capacity venue. In essence, United had surrendered its influential home-field advantage and lost the feverish environment provided by the RFK crowd. Season ticket holders grumbled about poor seat assignments and the hassle of traveling to FedEx Field.
While that doubleheader came to fruition after months of discussion and finalized three months ahead of time, United officials were unaware until this week that organizers of the Argentina-El Salvador game were seeking to play on the 28th instead of the 27th. Even if they had, they probably would not have agreed to another doubleheader anyway.