A longtime fitness instructor to Washington's elite tells clients he's undocumented
Uriel Casas's story plays out like many young undocumented immigrants in this country. He moved from Mexico to Maryland as an 8 year-old with his family, on a tourist visa that expired 25 year
By Perry Stein/The Washington Post | 11/23/2015, 6 a.m.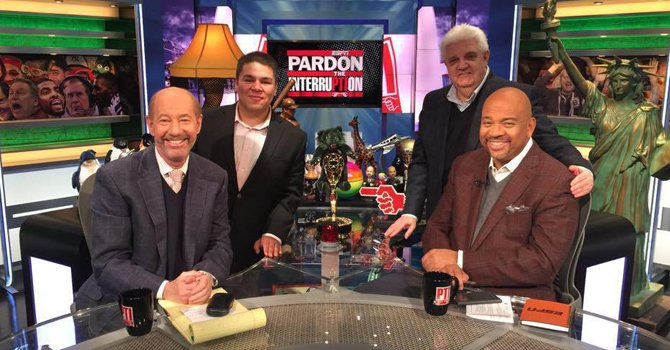 Even if Uriel Casas only occasionally stops by the set of ESPN's "Pardon the Interruption," avid fans may know him as the man who keeps co-host Tony Kornheiser in shape.
"Uriel Casas, happy birthday," Kornheiser said at the end of an episode this past summer. "He's my trainer."
Casas might soon be recognized as someone else: One of the estimated 11 million undocumented immigrants living in the United States.
On Friday, Casas decided to out himself, marking one year since President Obama signed executive actions on immigration.
Casas knows that publicly saying he is undocumented could be a liability to the high-profile clients he has worked with over two decades, but says he's run out of options to obtain legal status. He figures that if he can't pursue his dream career in business, he might as well be honest about his status and help to shape the country's perception about immigrants. Many of Obama's initiatives received blowback from Republicans and are still tangled in courts awaiting their fates.
"What if I showed who I am to the world — to America really?" Casas said in an interview, adding that there is often a misconception that undocumented immigrants are lazy and, as Republican presidential contender Donald Trump recently said, criminals. "Will they still look at immigrants the same way?"
Casas's story plays out like many young undocumented immigrants in this country. He moved from Mexico to Montgomery County as an 8 year-old with his family, on a tourist visa that expired more than 25 years ago.
His parents and brother fled Mexico in 1987 because his father feared the country's corrupt government. The comfortable family in Mexico was poor in Maryland, and his mom worked three jobs to keep them afloat.
Casas quickly learned English and performed well in school. He graduated high school, became a personal trainer and attended community college. He had wanted to pursue more rigorous studies, but his immigration status prevented him from obtaining financial aid.
"The colleges told me to fill out the [federal student aid] forms, and that's when it hit me," Casas said. "We were so poor that we could have gotten scholarships and financial aid, but I couldn't because of my situation."
Casas eventually enrolled at the University of Maryland and graduated with his bachelor's degree in 2003. His brother married an American citizen and obtained his green card. His parents divorced when he was 10, and his mother remarried an American citizen. By the time his mother and brother remarried, Casas was too old to be grandfathered in as a legal resident through their marriages.
Getting a job outside of personal fitness without legal status was not going well for Casas. He thought if he earned his MBA, he'd have better prospects. He paid his way through school by doing personal training, charging $75 per session. He graduated from the University of Maryland's business school in 2013.
He had hoped his immigration status would go unnoticed, but he hit roadblock after roadblock when applying for jobs. He's a personal trainer to a number of high-profile business people, including Ed Quinn Jr. — the chief executive of TW Perry, a big building material supplier in the United States — and was ashamed they may think he was just lazily dawdling for two years with an MBA without a real business job.