Guía de Halloween para pasarlo de miedo
De bares, de bosques encantados y mansiones embrujadas
El Tiempo Latino-Redacción | 10/29/2015, 3:17 p.m.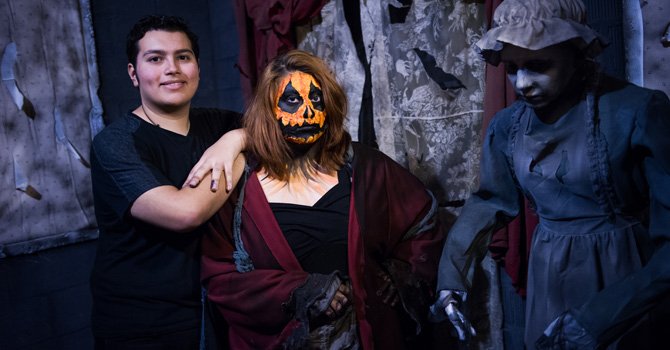 Es un final de mes para horrorizarse. Y nada tiene esto que ver con la política o la economía, sino con la tradición de pasar miedo entre octubre y primeros de noviembre.
El área metropolitana ofrece la posibilidad de "irse de bares" a pasar miedo o buscar el entretenimiento para toda la familia en una variedad de mansiones embrujadas y bosques encantados. Lo que sigue son algunas sugerencias:
El sábado 31, The Red Derby tiene fiesta y cine en pantalla gigante a las 10pm. 3718 14th St. NW. www.redderby.com. Free.
El domingo 1 de noviembre, The Sonic Transducers ponen en escena ,"Rocky Horror".5 p.m. Landmark E Street Cinema, en el 555 de la 11 St. NW.
www.landmarktheatres.com. $9.
De bares
El 31 de octubre: De bar en bar con 27 locales de la U Stree at a Chinatown. Cervezas a $3 y $4. 5 p.m. a medianoche. Ver www.lindypromo.com
Clarendon Halloween Crawl. $20 incluye especiales en cada parada, $2 Bronx Pizza y una rifa. De1 a 9 p.m. www.clarendonhallweencrawl.com.
D.C. Halloween Crawl, 3 p.m. a 1 a.m. .www.dchalloweencrawl.com. $20 por adelantado, $30 en la puerta.
The Old-School Hip-Hop Bar Crawl en U Street. 3 p.m. a 10 p.m. Diferentes lugares; Piola (2208 14th St. NW) es la primera parada. Eventbrite link. $10-$15.
De baile
Viernes 30 de octubre.En el Fillmore, Halloween Flashback. 8 p.m. 8656 Colesville Rd., Silver Spring. www.livenation.com. $15.50.
Madonna, Royksopp, Kylie Minogue y Dolly Parton remixes con DJs Shea Van Horn and Matt Bailer. 11 p.m. a 3 a.m. Howard Theatre, 620 T St. NW. www.mixtapedc.com. $10.
Sábado. 31: The Monsters Ball con DJ Rich Medina . 9 p.m. a 3 a.m. The Lodge at RedRocks, 1348 H St. NE.www.facebook.com/thelodgeatredrocks. Gratis con disfraz, $20 sin disfraz.
Saturday, Oct. 31: Town
10 p.m. a 3 a.m., 2009 Eighth St. NW. www.towndc.com. $15.
Georgetown Events en Sphinx Club. 9 p.m. a 2 a.m. The Sphinx Club, 1315 K St. NW.www.georgetownevents.com. $70.
Church Night en Black Cat.
9 p.m. The Black Cat, 1811 14th St. NW. www.blackcatdc.com. $10 por adelantado; $12 el día del show.
Mansiones y más
Bennett's Curse Haunted House. Blobs Park, Jessup, Maryland.Hasta el 7 de noviembre.
Markoff's Haunted Forest
Calleva Farm, 19120 Martinsburg Rd. Dickerson, Maryland. Hasta el 31 de octubre.
Field of Screams
OBGC Community Park, 4501 Olney-Laytonsville Road (Route 108), Olney, Maryland. Hasta el 1 de noviembre.
Nightmare Screamplex
Maryland SoccerPlex & Discovery Sports Center, 18031 Central Park Circle, Boyds, Maryland.
Bosques encantados
Cox Farms Fields of Fear
15621 Braddock Road, Centreville, Virginia. No recomendable para menores de 12 años.
Shocktober at Paxton Manor
601 Catoctin Circle NE Leesburg, Virginia.
Halloween Woods
Algonkian Regional Park.
Wicked-woods Haunted Forest I-95, Exit 118 - Thornburg, Fredericksburg, Virginia.
Haunted Hollow
8275 Maple Tree Lane, Warrenton, Virginia. Route 29 Haunted Cornfield
Buckland Farm Market, 4484 Lee Highway, Warrenton, VA (540) 341-4739.
The Death Trail. 16120 Dumfries Road, Dumfries, VA. Los bosques más terroríficos del condado de Prince William con los personajes y apariciones más sorpresivas.
Halloween Woods Haunted Forest
Algonkian Park, Sterling, Virginia. 47001 Fairway Dr, Sterling, VA 20165
703-450-4655
$25 incluye: Haunted Trail/Haunted Fun House $18.00 Haunted Trail.
Laurel's House of Horror
935 Fairlawn Ave, Laurel, MD 20707 Laurel, MD
240-462-6700
$25 esel precio básico. Por $35 se evita tener que esperar turno.
Shocktober
The Paxton Manor, Leesburg, VA
703-431-4279
Halloween Nights.
7pm-10pm
601 Catoctin Circle, NE, Leesburg, Virginia 20176
Por internet: $30 incluye Paxton Manor y el sótano, The Haunted Well of Souls
En la puerta: $35 .
A Haunted Forest in Fredericksburg, VA
I-95, Exit 118 - Thornburg, Fredericksburg, Virginia. THE FUNERAL HOME- $7 INSANITARIUM ASYLUM- $7 HAUNTED FOREST- $ 15 THE COMBO PASS- $23.
Scream City en el RFKStadium/DC Armory
Viernes y sábado noche hasta el 1 de noviembre. $30-$40
Nightmare Manor
Una pesadilla en una mansión con 200 años de historia. 10240 Fingerboard Rd, Ijamsville, MD 21754
Email: thenightmaremanor@gmail.com
Telf.:1-855-95-MANOR (62667). Tickets: $25
Buckland's Haunted Farm
Buckland Farm Market, 4484 Lee Highway, Warrenton, VA (540) 341-4739
Also of interest