Francisco Montero
Managing Partner | Fletcher, Heald & Hildreth
6/21/2017, 3:32 p.m.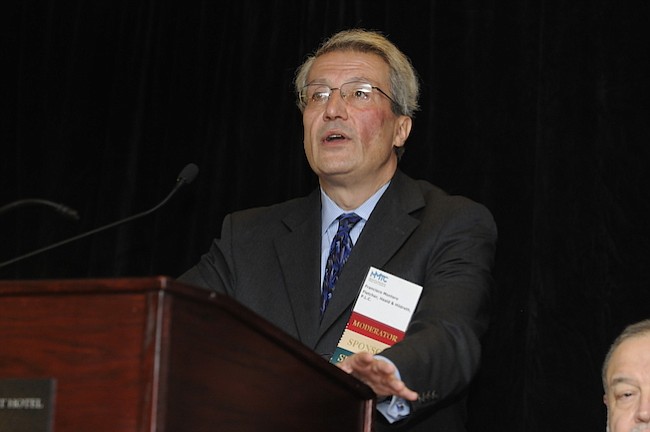 Francisco Montero is a Managing Partner at Fletcher, Heald & Hildreth, a Washington DC major full-service telecommunications law firm. Moreno is a media and telecommunications attorney who helped create the first trade association for Latino broadcasters. That led to a career of representing Latino broadcasters and media companies and advocating for their interest. In 1999 he was appointed to the Federal Communications Commission (FCC) during President Bill Clinton's administration. Montero expanded business opportunities for minority-owned telecommunications firms and was recognized for "bridging the digital divide". Under President Bush, he served on the Advisory Committee on Diversity for Communications. He has been bestowed with the Distinguished Leadership Award for his significant contributions to Hispanic and Spanish-language broadcasting.
---
Francisco Montero es socio gerente de Fletcher, Heald & Hildreth, una firma de abogados especializados en telecomunicaciones que ofrece todos los servicios legales en Washington DC. Moreno es un abogado de medios y telecomunicaciones que ayudó a crear la primera asociación comercial para los radiodifusores latinos. Eso lo llevó a a construir una carrera representando y defendiendo los intereses de radiodifusores latinos y compañías de medios. En 1999 fue nombrado miembro de la Comisión Federal de Comunicaciones (FCC) durante la administración del presidente Bill Clinton. Montero amplió las oportunidades de negocios para empresas de telecomunicaciones propiedad de minorías y fue reconocido por "superar la brecha digital". Bajo la presidencia de George W. Bush, sirvió en el Comité Asesor sobre Diversidad para las Comunicaciones. Ha sido galardonado con el Distinguished Leadership Award por sus importantes contribuciones a la radiodifusión hispana y en español.
Also of interest