Joseline Peña-Melnyk
Maryland House of Delegates
6/21/2017, 3:38 p.m.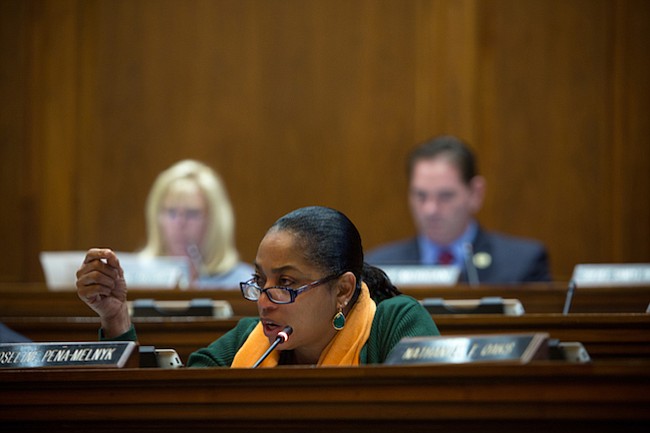 Joseline Peña-Melnyk is Maryland House Delegate (D). Peña-Melnyk once an immigrant child herself, stands firmly to support the Trust Act, to protect ¨sanctuary¨ policies adopted by cities and counties in recent years, to safeguard undocumented immigrants. She emigrated from the Dominican Republic to the U.S. with her single mother and sister, and now, she supports those laws that would prohibit local authorities from arresting individuals for immigration purposes and try to restrict federal agencies from removing people from school, hospital or courthouses. After Ms. Peña-Melnyk had got her law degree, she took court appointments to represent abused and neglected children, and to provide criminal defense for the poor.
---
Joseline Peña-Melnyk es Delegada (D) de la Cámara de Delegados de Maryland. Peña-Melnyk, emigró a EEUU de niña con su madre soltera y su hermana. Dada su experiencia de inmigrante originaria de la República Dominicana, Peña-Melnyk apoya firmemente leyes como la de Fideicomiso, que promueven las políticas de "santuario" adoptadas por las ciudades y condados en los últimos años. Considera esencial brindar protección a los inmigrantes indocumentados y apoyar aquellas leyes que defienden el derecho constitucional de las autoridades locales de no colaborar con las agencias federales, sobre todo cuando se trata de arrestar a individuos que no han cometido delitos salvo por su situación migratoria. Peña-Melnyk aboga por impedir la remoción de personas de las escuelas, hospitales o los tribunales en operaciones anti-inmigrantes. Después de obtener su grado de abogado, representó legalmente en la corte a niños abusados y descuidados, y contribuyó a proporcionar defensa penal a los pobres.