McDonald's: A franchise with Hispanic flavor
El Tiempo Latino & Coca-Cola recognize at the Powermeter Washington D.C. ceremony six Hispanic entrepreneurs for their outstanding business achievements in the area.
Personally, Takata is a living testimony of the power of the social programs lead by McDonald's since she benefited from them, first as a student and later as a manager in the area of training.
"Thanks to McDonald's I graduated leveraging their educational programs. Now I try to help other women, mothers, to achieve that balance between home and work," says Takata.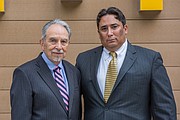 The Montoya family shares a similar story. Father and son have made McDonald's a family business that began more than two decades ago when the Hispanic entrepreneur Joseph Montoya opened the first local franchise.
It was in New Mexico where Montoya became part of the popular fast food chain that today serves some 68 million daily customers in 120 countries and territories.
Currently, their restaurants, attended mostly by Hispanics, are located in Aspen Hill, Maryland and the Adams Morgan neighborhood of Washington, D.C., two areas with a high concentration of Latino population.
"I can say that is not easy, it's hard work," confesses Joseph Montoya, "but now I feel very proud to represent the community," he says.
His son Joseph, better known as JJ Montoya added that the story of his father inspired him to begin within the chain, even without having completed college.
"This was my life dream when I was in college, so when I started in this business I already knew what I wanted to do," he said.
In a near future, he hopes to further enhance the flavor of this story by incorporating new Hispanic food choices on the menu.
Also of interest