Just Questions
Alberto Avendaño/oped | 12/10/2013, 7:26 p.m.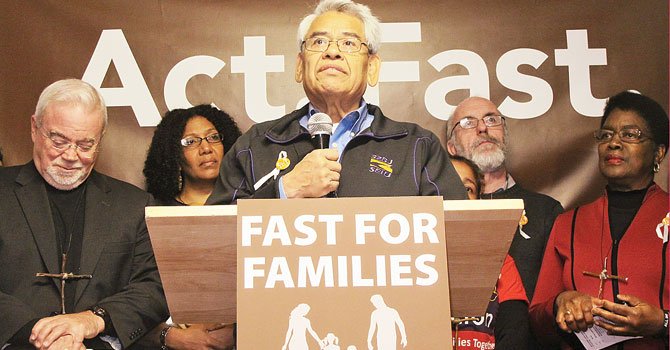 1.Since Facebook's founder, Mark Zuckerberg, recently joined other voices from Silicon Valley calling the cause of immigration reform "one of the biggest civil rights issues of our time," how come Anglo American media keep such a low key coverage on the latest immigration movement —Fast4Families— and its unique and broad coalition of religious, political, and community voices?
2.Is American media hurting the democratic process by hiding and/or minimizing the immigration issue? Do they know what Fast4Families is? Why did "Occupy Wall Street" and "Occupy DC" get so much coverage while the "civil rights issue of our time" is being neglected?
Is American media hurting the democratic process by hiding and/or minimizing the immigration issue?
3.In an opinion column published by The Washington Post, Chef José Andrés wrote —days after becoming an American citizen—: "Right now, the House of Representatives has a chance to make a difference in the lives of millions by allowing a vote on immigration reform, a difference that would benefit America for generations to come. I don't envy Speaker John Boehner's difficult position." Really? Does Speaker Boehner have a "difficult position"? Thank you Chef José Andrés for your vision and your mission; but, should we pity Speaker Boehner or demand action from Congress?
4. According to the White House, President Obama lived briefly, when he was in law school, with his Kenyan-born uncle, Onyango Obama. The problem: Uncle Obama was an undocumented immigrant. Until now uncle Obama faced deportation. But an immigration judge ruled that uncle Obama could stay in the US. Can we apply the same rational to the thousands of families that are being broken by the same system?
5.Executive action to halt all deportations of undocumented immigrants who have not committed serious crimes it'd be politically consistent and within precedent. However, the staggering number of deportations under Obama —1.5 million people in his first term— has left thousands of children in foster care after their parents were deported, according to a study by the Applied Research Center. For how long will the president repudiate his promises to the Hispanic voter?
6.The stubborn opposition to immigration reform by most Republicans in the House of Representatives contradicts Douglas Holtz-Eakin, a conservative economist and former Congressional Budget Office director, who told Fox News that immigration reform is "an economic policy opportunity." Any questions?
7.Republicans will fail at attracting the new mainstream voter —those who are called "minorities" today. The GOP's message will get lost amidst the noise and disturbance of the politics of hate, ignorance, and inflexibility. And finally, will the GOP end up bending under the firm plea of its own supporters?
Also of interest