History Corrected
Alberto Avendaño/oped | 4/3/2014, 4:52 p.m.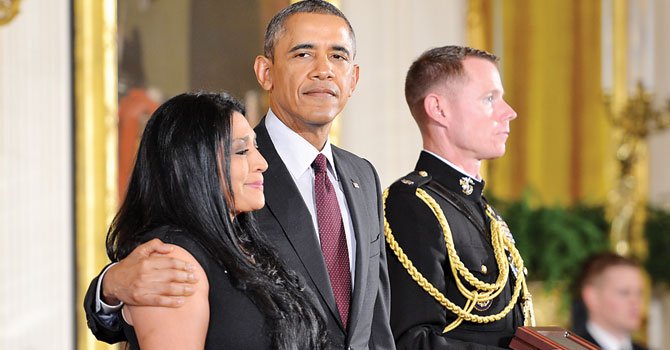 "No nation is perfect. But here in America, we confront our imperfections and face a sometimes painful past, including the truth that some of these soldiers fought and died for a country that did not always see them as equal".
President Barack Obama said these words, Tuesday the 18th of March, in the East Room of the White House, during a 75 minute event that included the single largest group of Medal of Honor recipients since World War II.
Obama recognized 24 veterans with the United States of America's highest military honor, awarded for personal acts of valor above and beyond the call of duty. The event was "historic" —as the President put it— because the vast majority of the awardees were initially passed over due to the color of their skin, their religious beliefs or their ethnic background.
In 2002 Congress passed the Defense Authorization Act and the Pentagon set up a review of Jewish and Hispanic veterans who had served in combat since the middle of the century "to ensure those deserving the Medal of Honor were not denied because of prejudice," explained the White House. The review concluded that 17 Hispanics, one African American and one Jewish soldier did not receive the honor because of racial prejudice.
The March 18 event at the White House and the March 19 "Hall of Heroes Induction Ceremony" at the Pentagon were filled with emotions framed by the words "Valor, Bravery, Gallantry, Courage." And names like Rodela, Alvarado, Conde, Copas, Durán, García, Baldonado, Espinoza, Gómez, Negrón, Pena, Rivera, Vera, Cano, Gándara, and Mendoza rolled along Morris, Schwab, Nietzel, Leonard, and Weinstein.
The soldiers served in World War II, Korea and Vietnam. Only three of them are alive to receive the medal.
Staff Sergeant Melvin Morris distinguished himself "by acts of gallantry and intrepidity above and beyond the call of duty" the afternoon of September 17, 1969.
Specialist Four Santiago J. Erevia, a radiotelephone operator from Texas, distinguished himself, on 21 May 1969, by tending injured comrades in Vietnam's Quang Tin province when his position came under attack.
Sergeant First Class José Rodela distinguished himself on September 1, 1969 in Vietnam's Phuoc Long Province during combat operations "providing suppressing fire and assisting wounded comrades", according to the citation.
A country that did not see these and other soldiers "as equals" in the past is now rectifying and —by doing so— is being true to its philosophical foundations.
The Hispanic experience in the United States is a 500 year old legacy which helped shape a nation whose recent history is filled with examples of injustice and discrimination. But the shadows of prejudice always disappear under the light of men and women who can see beyond human weakness. Then a President is needed to correct history.
Avendaño is Executive Editor of El Tiempo Latino
alberto@eltiempolatino.com
Also of interest