I Love Concha Buika
Alberto Avendaño/oped | 4/3/2014, 6:41 p.m.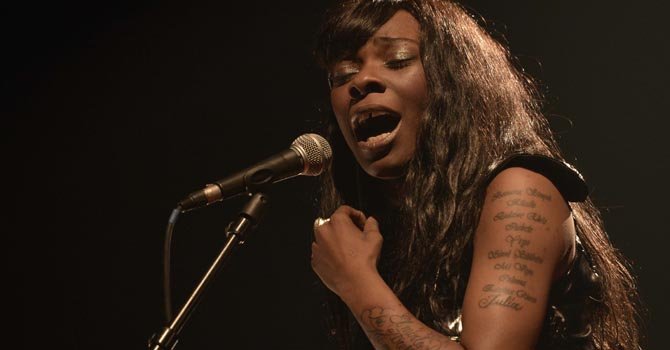 5 reasons to love Spanish-African singer and rising global music star Concha Buika.
1. Her voice and demeanor are smoky, husky, layered, perilously imperious, soulful, an unforgettable wailing emotion, the successive sums of summers… or as Octavio Paz would say: The panting of fresh water troubled by the sea.
2. She is cante, coplas, jazz, flamenco, blues, the howling "morriña" of a bagpipe playing with an incoercible energy that emanates from the soil and whose sounds can make us immortal. Because she says things like "I want to prove that it doesn't matter where a musician comes from-people understand it. It doesn't matter where I perform- Turkey, France, Japan, the U.S. —something in the atmosphere tells me they understand the words I am singing."


3. On her latest and most diverse album La Noche Más Larga (The Longest Night), Concha Buika continues to break down the walls that surround flamenco, the root source of everything she does, but a tradition that can't contain her ever-evolving vision. For the first time in her career Buika, along with her two main musical partners pianist Iván "Melón" Lewis and percussionist Ramón Porrina, were the overall producers of the album. It was recorded in Madrid, Miami, and New York with musicians from both sides of the Atlantic. 

That CD garnered Buika her first GRAMMY nomination for "Best Latin Jazz CD" and a Latin GRAMMY nomination for "Recording of the Year" for the song "La Nave del Olvido" (Ship of Oblivion).


4. Nearly half of the songs on the new album were written completely by Buika, and actually credited to her, which has not always been the case in the past, due in part to the singer's lack of attention to the business side of her career. Buika says her steady touring all over the globe has given her greater and greater confidence, and provided the sense of identity that's eluded her for decades. "My parents were born in one place [Equatorial Guinea] and I was born in another [the Spanish island of Mallorca]. When I grew up in Spain many people used to say, 'You're not from here,' and my family from Africa would say I wasn't from Africa, so it was always tricky for me. But now, travelling around the world, I discovered a piece of me in every country I travel in. I discovered that the world is my house. My 'self' is full of things from everywhere in the world. What I try to do when I sing is to follow my free note. It doesn't know about borders."
5. Rare is the artist to garner comparisons to Nina Simone, Chavela Vargas, and Cesaria Evora, but Buika has been compared to all of them. She has clearly inherited their steely independence and uncompromising creative vision.

"I think it's the bravest record that I've made. I wanted to put our craziness and our sound in there," she says.
Avendaño is Executive Editor of el tiempo latino
alberto@eltiempolatino.com
Also of interest