Global Education Blooms Here
Language immersion in the area
Alberto Avendaño/oped | 8/3/2014, 2:36 p.m.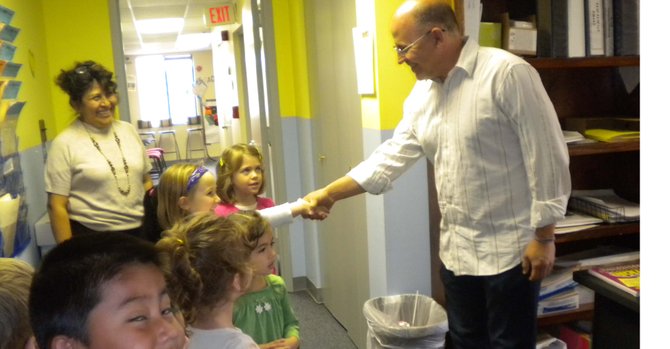 While walking the corridors of Communikids Preschool in Falls Church, Virginia, I listen to a three-year-old say "J'ai une chenille." She is showing her class a hairy caterpillar in a mesh enclosure. Moments later a four-year-old brings over an ant farm and shouts "¡Mira las hormigas!", in flawless Spanish. Neither of these children are native speakers of the language. They are English speakers who have been immersed in French or Spanish as part of the program of study.
"We hope these children become the global citizens of the future. By teaching languages we not only teach them a useful global skill but also build a better understanding of the world and impart the disposition to work, play, and live with people from different cultures", explains Raúl Echevarría, Communikids' Co-Founder and Curriculum Director. "Yes, we teach world languages but we also intentionally develop cross-cultural skills that are at a premium in the globally minded society," explained Echevarría.
The DC region is in the midst of a Global Education explosion with an expanding number of schools heralding the development of multilingualism and cross-cultural skills as an essential part of their mission. For decades Oyster-Adams Bilingual School and Washington International School have been carrying out global education programs in the DC area. These established schools have recently been joined by globally minded preschool like Communikids, internationally focused charter schools like the Yu-Yin Academy, Elsie Whitlow Stokes and Mundo Verde, and private schools such as Maryland International Day School in Prince George's County.
"Parents want these programs because they want their children to succeed. They recognize the changes that are taking place in our society and are demanding that educators provide children with the tools to succeed in this new environment. People realize that speaking multiple languages and getting along with people from different cultures is essential to succeed whether you are in Washington or Timbuktu," says Echevarría.
The local Global Education boom is not only due to the rise of China, or the crisis in the Middle East. While these international forces are responsible for some of the impetus, there are powerful domestic forces involved as well. Of particular importance is the increased presence of Spanish in the United States.
The proliferation of Global Education in our area provides local leaders, instructional content providers, policy makers and social entrepreneurs with an opportunity to promote the inclusion of these important global skills to the national debate on education.
It is time to join forces with these new schools to make Global Education a priority. The challenge lies on cultivating the resources we have in our region so we can scale these programs to the rest of the world from Washington all the way across to Timbuktu.
Avendaño is Executive Editor of El Tiempo Latino
alberto@eltiempolatino.com