The Love of Ingrid & Catherine
They fight for their marriage
Alberto Avendaño/oped | 8/7/2014, 1:08 p.m.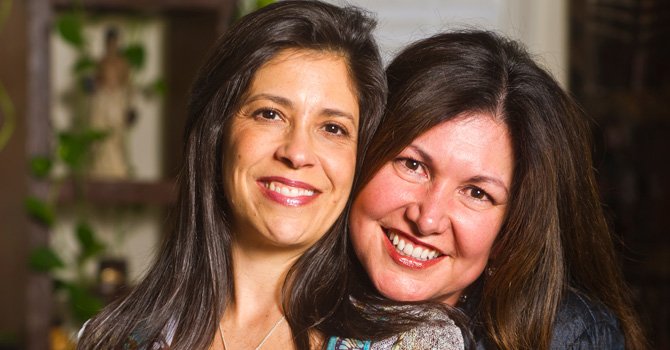 Ingrid and Catherine first met in 1992 during a tea dance at the Spy Club in Washington, DC.

Or as they put it: "The story began when Ingrid Marie Duran, the child of Chicano activists from Boyle Heights met Catherine Marie Pino, the child of a conservative Hispanic Catholic family from Albuquerque."

Then time goes by while love knows not what time is.
And since "Time is 
nothing if not amenable" —the great Elizabeth Bishop dixit— in 2002, when Ingrid was running the Congressional Hispanic Caucus Institute (CHCI), Catherine became one of the CHCI Board of Directors. Destiny, friends and cosmic alliances put them back together again .
Two years later, they became a couple in love and business partners. At the time, they also announced that they were leaving their respective careers with nothing in hand but a dream and "a song".
They say that their announcement caused quite a scandal in the DC Latino world. Somehow they knew that the usual suspects of their environment would not understand their decision.
That they had each other, that they loved each other and that they could sing a song only they could hear —in Oscar Wilde's words.
Catherine and Ingrid currently live in Virginia with their adopted Maltese, Allegro Pino Duran. Last March I was invited to their engagement party in Virginia at the house of a dear friend of mine —a great conservative dame. Yes, there is still sense and sensibility —and probably heart and brains— in the US conservative arena.
Although marriage equality isn't a reality in Virginia, change is clearly on the horizon, they say.
Like many Virginians, Ingrid and Catherine were thrilled when a federal judge struck down the same-sex marriage ban earlier this year.
And Virginia Attorney General Mark Herring said August 5 he would ask the Supreme Court to review a decision that struck down the state's ban on same-sex marriage, although he supports the lower court's decision.
"I believe the district and appeals courts ruled correctly in striking down Virginia's discriminatory marriage ban, but it has long been clear that the Supreme Court will likely have the final word. I want that decision to come as soon as possible and I want the voices of Virginians to be heard," Herring said in a statement.
Family and friends have encouraged Ingrid and Catherine to move to the District of Columbia or to Maryland where they will be more fully accepted and their marriage will be respected.
Why fight for their love in Virginia? Because they want "to be heard", because they believe that progress is possible for Virginia, especially with Terry McAuliffe as governor. They want to be part of change, and acceptance, in the community where they live and love. Catherine and Ingrid feel that marriage is the ultimate American symbol of the union of two people in love.

Avendaño is Executive Editor of El Tiempo Latino
alberto@eltiempolatino.com