Profiles in Courage
Immigration Reform
Alberto Avendaño/ETL | 8/25/2014, 2:53 p.m.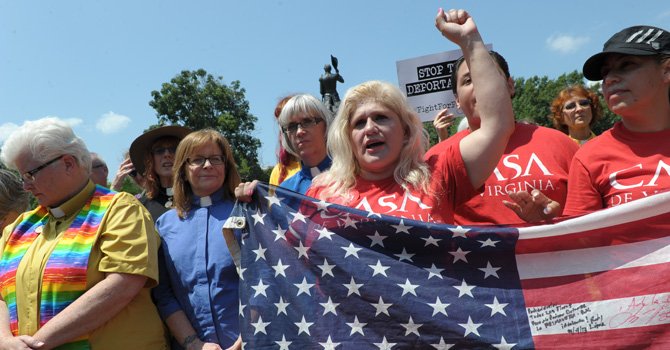 Ivania Castillo is a fearless activist and champion of the immigrant community. When she participates in demonstrations in front of the White House, she thinks of her daughter-in-law, Gladys —a hard-working woman living in the US without documents, who currently has four immediate family members with outstanding orders of deportation. Castillo's dedication to community activism has been galvanized by her background as a war refugee from El Salvador. She fled the violence in the 1980's at age 13 and later she became a US citizen. For 15 years, she's been active at every rally and initiative related to immigration, along with her three children and husband. She also makes time to volunteer with the Red Cross in her home of Prince William County, in Virginia. "I have so much to give back to the community... and fighting for immigrant rights and immigration reform is another way of doing so," comments Castillo.
José Portillo witnessed the gang violence threatening the lives of his two teenage sons in El Salvador and decided to move his family away from a perilous situation and into a safer environment. In 2008, they fled to what they believed would be a safe haven in the US, settling in Baltimore. "I did what was best for my family as any father would do", says Portillo. Despite the fact that Portillo's family work diligently and follow the law, they live their day to day lives haunted by the possibility of being deported because they are undocumented immigrants.
The Rev. John L. McCullough is President and CEO of global humanitarian agency Church World Service (CWS). For more than 67 years CWS has worked to end hunger and poverty among the world's most vulnerable. "As someone who has benefited from the courage and civil disobedience of the leaders of the Civil Rights Movement, I cannot stand idly by as I see unjust immigration laws damage our communities and our nation. It is a moral imperative that we take action now, particulary after the House Republican leadership has miserably failed to enact immigration reform that the majority of Americans roundly support."
Bishop Minerva G. Carcaño leads the Interagency Task Force on Immigration for the United Methodist Church, and is a spokesperson on matters of immigration reform for the Council of Bishops. In 2013, she was one among 14 religious leaders who were invited to the White House by President Barack Obama to consult with him about immigration reform. "We have come to Washington, DC, to tell President Obama and Congress that kicking out suffering immigrant families and unaccompanied children is not the answer. Immediatley stopping the deportations and extending due process to children escaping the violence of drug cartels, gangs, and poverty is the just way to respond," says Bishop Carcaño, a native of Edinburg, Texas, and a third generation Methodist.
Avendaño is Executive Editor of El Tiempo Latino
alberto@eltiempolatino.com
Also of interest