Profiles in Courage (II)
Faces of the immigration debate
Alberto Avendaño-oped | 8/28/2014, 2:41 p.m.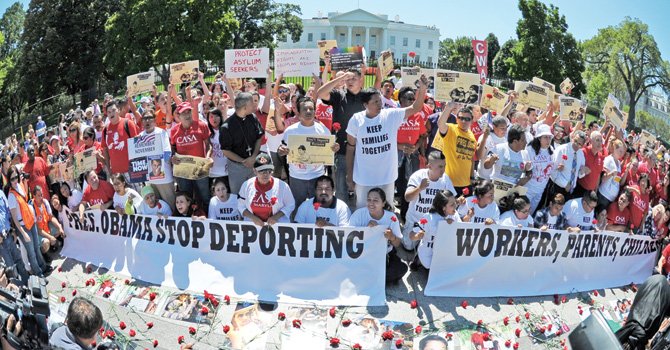 Sister Eileen Campbell is vice president of the Sisters of Mercy of the Americas. "The Sisters of Mercy stand in solidarity with our immigrant brothers and sisters seeking safety and peace within U.S. borders. We strongly support executive action that would eliminate mass deportations, which obstruct the development of children, and further jeopardize vulnerable populations. We urge the President to renew Deferred Action for Childhood Arrivals (DACA) status for those who have it, to extend the application timeline, and to implement a similar process of relief for all undocumented immigrants who make contributions to their communities."
Antonio Alemán "I think about my children. I want them to get ahead. I want them to have opportunity. That's why I came from El Salvador." Antonio Alemán came to the United States in 2003. He and his ife have two kids: Eric, 17, and Beatriz, 24. He works hard to support them, but finds it hard to get beyond his job as a delivery driver because of his immigration status. He lives with the constant fear that he will be stopped and deported away from his family.
Karen Salmerón "I support all the kids being unlawfully turned away at the border, and everyone else who, like my parents once did, live their lives in fear of deportation." Salmerón was born in Silver Spring, Maryland, to parents who had recently migrated to the US from San Miguel, El Salvador, making her a US citizen while her parents remained undocumented. When she was 3 years old, her parents decided that they could no longer stand the constant fear of deportation and they moved the family back to El Salvador. In 2007, when Karen was 16, rising gang violence in San Miguel began to impact the family's lives. They moved back to Silver Spring and since Karen was already a citizen, their parents were granted permanent residency. Karen is now 23 and balances her time between being a student at UMBC, while also working in the Program Assistance at CASA de Maryland.
Jovita Rojas Her family migrated to the US from Puebla, México, when Rojas was only 6 years old. They settled in Annapolis, Maryland, and for 13 years have built a life of work and family values while living under the constant fear of deportation. Her entire immediate family —mother, father, and two older brothers— are all undocumented residents of the United States. Rojas was able to acquire Deferred Immigration Status (DACA), but continues to fear the day when her family may be ripped apart.
Gustavo Torres is the Executive Director of CASA de Maryland. "I am here today because my members are suffering and my community is devastated. President Obama, I supported you, we supported you, and we know you can eradicate the crisis that immigration communities are confronting. President Obama, I believe in a United States where CASA members can live and raise their family and I am asking you to do the same. Help us solve the immigration crisis."
Avendaño is Executive Editor of El Tiempo Latino
alberto@eltiempolatino.com