Salvadorans prepare for a new era
Salvadoran community could be transformed by Obama's executive action
By Pamela Constable/The Washington Post | 12/5/2014, 12:24 p.m.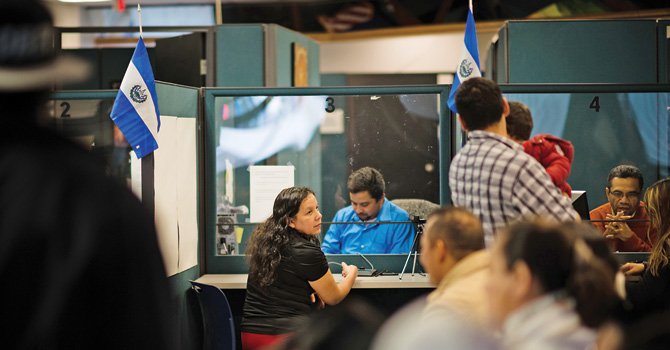 The storefront consulate on Wisconsin Avenue NW has long been a cramped but friendly resource for immigrants from El Salvador — by far the largest such population in the Washington region — who had nowhere else to turn in family and legal crises.
After President Obama announced his plan to protect up to 5 million undocumented immigrants from deportation, the tiny consulate got a lot busier. With more than 100,000 Salvadorans expected to apply there this spring for the three-year deportation relief, consular officials are scrambling to hire extra staff and launch mobile services in the suburbs.
"It is our duty to do whatever we can to help people apply," Sunny Soto, the vice consul, said. "They're going to need passports, birth certificates, marriage licenses, help with children's school records. It's going to be a documentation flood. Obama's action may affect more Mexicans than any other group, but it is expected to have a seismic impact on Salvadoran immigrant communities, the two largest of which are in Los Angeles and greater Washington. More than a third of the estimated 675,000 undocumented immigrants from El Salvador live in the Washington area.
According to a survey by the Pew Research Center, when the president's new action is added to previous protections, nearly two-thirds of all Salvadoran immigrants will probably be legalized — a higher percentage than any other undocumented group. Immigration officials will start accepting applications in May.
For the first time, thousands of Salvadoran parents with children born in the United States, as well as adults of any age who arrived in the country before turning 17, will be free to drive without fear, work for formal wages and assert themselves when they feel they are mistreated by probing police or stingy bosses. Many also will be eligible to receive Social Security, Medicare and other federal benefits. "This will be transformative," said Mark Lopez, director of Hispanic research at the Pew center in the District. "It's not just about individuals getting temporary work permits and protection from deportation. It's about their families and communities becoming more stable and being able to plan for the future."
However, as Salvadoran diplomats and community leaders point out, the new relief does not resolve two issues that are crucial to many Salvadorans who have lived in the United States for years, and to smaller numbers of Hondurans and Guatemalans.
First, the president's action does not allow beneficiaries to travel abroad, although many immigrants assumed that it would. Instead, they will need to obtain special "advance humanitarian parole" for trips such as family emergencies. In a community where many parents and children have been separated for years, the temptation to sneak home or arrange for children to come here illegally will remain strong.
"President Obama has lifted the sword of Damocles from the community. It is a great relief and a benefit to both our countries," said Francisco Altschul, the Salvadoran ambassador to Washington. "But it is only a partial solution. If people can't travel home and visit their families, then nothing has changed. The same pressures will be there."