Salvadorans prepare for a new era
Salvadoran community could be transformed by Obama's executive action
By Pamela Constable/The Washington Post | 12/5/2014, 12:24 p.m.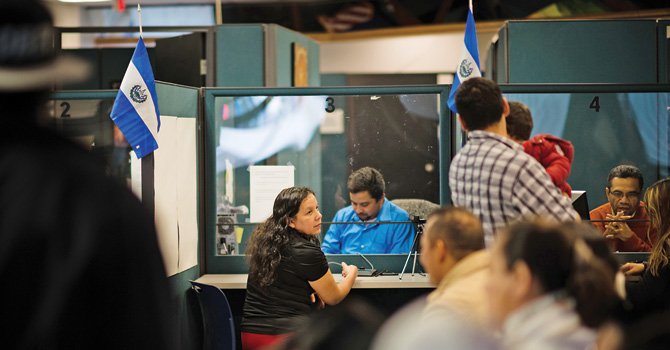 Second, the president's action does not allow about 280,000 older Salvadorans who obtained temporary legal status as war refugees years ago to apply for permanent legal status. It also does not allow those who let such protection lapse and are now illegal to qualify for the deferred deportation benefit.
Salvadoran leaders here said that only Congress can make these changes and that they plan to seek relief on Capitol Hill for longtime refugees.
"So many Salvadorans with special status have made a life here, and over the years they have paid more than $1 billion in fees," said Del. Ana Sol Gutierrez (D-Montgomery), a member of the Maryland legislature who is a Salvadoran immigrant. "But without Congress taking action, they will not get any relief."
Counselors also warned that many people eligible to apply for deferred deportation may later be disqualified for a number of reasons. Those who have used false ID's on rent or payroll records may not be able to prove a consistent work or residence history.
"People will have a lot to fear in gathering the required information about their pasts," said Jorge Escobar, an official at CASA of Maryland, an immigrant advocacy group headquartered in Hyattsville. CASA is preparing to help thousands of Salvadorans and others apply. "For people who lived underground for so long, collecting documents will be the major issue that gets in the way," he said.
Economically, the movement of tens of thousands of Salvadorans into the legal labor market should raise living standards for their families, both here and back home. Last year, according to El Salvador's central bank, cash transfers from workers in the United States, known as remittances, totaled $3.5 billion and made up 16 percent of El Salvador's gross domestic product.
And despite the anticipated rise in remittances, Salvadoran diplomats — like their counterparts in Honduras and Guatemala — insist that only massive foreign investment and aid will bring enough security and stability to their poor, crime-racked countries to stop people from fleeing north illegally.
After a surge of Central American minors crossed into the United States last summer, the Salvadoran government launched a campaign warning people not to go, but Altschul stressed that "we have to address the root causes of why people migrate. Otherwise, they will still leave."
Advocates for the Salvadoran community suggested that before the embarrassing mass exodus of border kids — including about 3,000 who were later sent to relatives in the Washington area — Central American governments had been complacent about illegal immigration because it brought in remittances and eased domestic poverty. But in the United States, they said, Salvadoran immigrant and labor leaders revived a strain of activism from the Central American wars of the 1980s and '90s, joining with Mexican immigrant groups to lead a push for immigration reform in Congress last year and executive action this year. In the Washington area, Salvadoran-dominated groups led most immigration rallies and protests.