'Justice for All' march in D.C.
Thousands join Al Sharpton
By Darryl Fears | 12/13/2014, 4:14 p.m.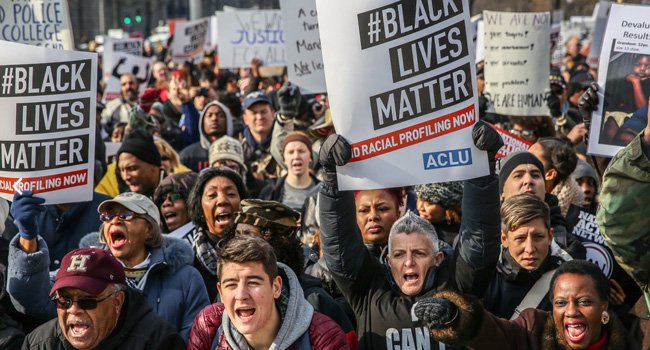 "You are the John Lewises. You are the Fannie Lou Hamers, " Madison said.
"We are here because we refuse to accept injustice," said Rep. Al Green (D-Texas), promising that Congress would pass legislation seeking better oversight of policing across the country.
As Sharpton took the podium, however, dozens and dozens of protesters walked west on Pennsylvania Ave, leaving the rally.
"We wanted to be here. This was wonderful. But we're good," says Kiesha Thomas, 32, of Chicago.
David Saunders, 62, was also leaving. "I believe in the march. But I don't want to hear him."
The Washington march is one of a wave of demonstrations across the nation. Separate marches are scheduled from San Francisco to New York, including a Millions March and rally near New York University, a demonstration before the nationally televised basketball game between two top teams, the universities of North Carolina and Kentucky.
Although many of the planned events were marches or rallies at city halls and federal buildings, events were as varied as the individuals organizing them, including, for example, a wilderness "healing hike" in hills outside Oakland, Calif.
By 11 a.m. several thousand people were jammed into Freedom Plaza near the White House as the crowd chanted the names of those recently killed by police, and "No Justice, no peace!"
A sea of signs sprouted from the crowd, reading "Black Lives Matter," "Stop Killer Cops," and "Hands up Don't Shoot."
Beating drums, waving signs and chanting "We can't breathe," thousands of marchers began to make their way down Pennsylvania Avenue to the Capitol. Various songs played over loud speaker as they marched — from Mahalia Jackson singing a hymn to Marvin Gaye's "What's Going On."
James Teal, 50, of Arlington, said he showed up at starting point, at 7 a.m.
Shortly before 9, he stood bundled against the morning chill and holding an American flag upside down on its pole. The flag bore the names of slain black men and boys, including Emmett Till, the 14-year-old killed in Money, Miss., in 1955 and whose death helped ignite the civil rights movement. Other names included Amadou Diallo, Treyvon Martin, Tamir Rice, and Brown and Garner.
Teal said he had recently been arrested in Arlington for protesting on Columbia Pike.
"I'm here because police brutality, racial profiling, this just will not be tolerated. I hope people come today and go back home with the sense that what we really need to do is vote ," he said.
"I got the flag upside down, not as showing disrespect for my country. I love my country. I also love the constitution more then this flag"
"The flag is just an upside down symbol of showing a sign of distress that this country and this nation is in," he said
A group of Unitarian Universalists from the Washington area wore yellow T-shirts and carried a large yellow banner that said "Stand on the Side of Love."
Eli Briggs, 44, of Silver Spring, a member of the Unitarian Universalist Church of Silver Spring, said she had come to "stand up for the ideals of justice for all people and that these killings of minority teenagers need to stop."