A picture of persistence in honoring a Spanish hero of the Revolutionary War
Teresa Valcarce, Congress and Bernardo de Gálvez
By Manuel Roig-Franzia-The Washington Post | 12/13/2014, 6:15 p.m.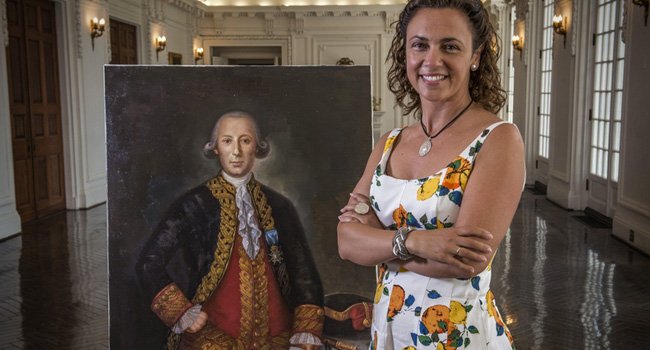 Sometimes Congress takes a while to keep its promises.
This one took only 231 years.
It has been that long since Congress pledged to hang a portrait in the U.S. Capitol honoring Bernardo de Galvez, a daring Spanish military leader who became a hero in the colonies during the American Revolution. The story of that ancient promise and how it is — ever so quietly — finally being kept is really the story of the Portrait Lady.
It's a story of how one of Washington's least powerful people — an effervescent labor-union secretary — got its most powerful institution to step up.
The Portrait Lady's name is Teresa Valcarce. She's a 45-year-old mother of three who commutes to downtown Washington from Bethesda. Before moving to the United States a decade and a half ago, she worked the information counter at the airport in her home town of Malaga, Spain.
In a city defined by org-charts, she's acutely aware of her place — she calls herself a "tiny, tiny, truly tiny fish" in a voice that sounds more Andalusia than K Street. And yet she seems incapable of grasping the implicit social contract of the org-chart: that the little fish don't get a say.
Three years ago, when her mother sent her an article from Spain mentioning the unfulfilled promise about the Galvez portrait, her reaction was both practical and naive. "I work down the street from the Congress," she declared. "I'll just go down there and tell them to put it up."
In a sense, Valcarce was picking up a fallen baton. In 2010, another Spaniard had made a discovery at the National Archives that thrilled the small world of Galvez enthusiasts. (Yes, there is a world of Galvez enthusiasts. We checked.) It was a May 1783 letter from Elias Boudinot, the president of the Continental Congress, to an American revolutionary financier, Oliver Pollock. In the letter, Boudinot accepted Pollock's gift of a portrait of Galvez.
Galvez had been the governor of Spanish-controlled Louisiana. He earned the enduring appreciation of the American revolutionaries by not only defeating the British in Florida but also by allowing colonial troops access to the Mississippi River as a critical supply line. There's a statue of him near the State Department. The city of Galveston, Tex., got its name from him, and St. Bernard Parish in Louisiana is a nod in his honor to his patron saint. But his American Revolution heroics have been largely lost to time and overshadowed by the feats of, say, the Marquis de Lafayette, a Frenchman who fought with the colonial forces and was a pal of George Washington's.
The discovery of the Galvez portrait letter prompted a brief spasm of excitement. The Bernardo de Galvez Cultural Association in Malaga sent word to Spanish diplomats in Washington about their native son. Nothing happened.
This made no sense to Valcarce. "This is America," she said of her adopted country. "We keep our promises. This is the legacy for my children."