A picture of persistence in honoring a Spanish hero of the Revolutionary War
Teresa Valcarce, Congress and Bernardo de Gálvez
By Manuel Roig-Franzia-The Washington Post | 12/13/2014, 6:15 p.m.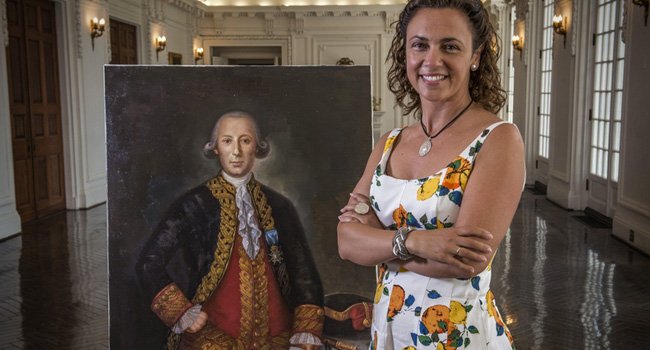 A wedge into the Capitol
She started calling the office of the official Senate historian. She called and called. She called so much that the staffers took to calling her the Portrait Lady. "They are so cute!" recalled Valcarce, toggling between Spanish and English, every bit the pert persuader with a flower tucked behind her ear. "So sweet."
The historians dug up a congressional resolution from 1783 ordering the portrait to be "placed in the room in which Congress meets." She was more convinced than ever.
But how to get it done? By now, she'd essentially turned over all her free time to researching the portrait and getting historians, expats and anyone else who would listen fired up about it. She had buttonholed law professors to get their thoughts on legal preced¬ents; she had jawboned archivists. But she needed a wedge into the Capitol.
She got it last April when a Spanish television crew arrived in Washington to film an episode of a popular program, "Espanoles en el Mundo," about Spaniards who live abroad. One of the segments followed a Spanish-born newspaperman as he conducted an interview with Rep. Chris Van Hollen (D-Md.). Valcarce tagged along; she was sort of like a stowaway. When the interview ended, she cornered Van Hollen.
"Mr. Congressman," she said, grasping his hand. "You're not going to believe this, but I need you to fulfill a 231-year-old promise." Van Hollen's office followed up with her almost immediately.
But things stalled in the House, and she shifted to the Senate. During a function at the Spanish ambassador's residence in January, she pulled aside Sen. Robert Menendez (D-N.J.), a Cuban-American whose ancestors came from northern Spain.
"This is big," she told Menendez.
Menendez and his staff were intrigued by Valcarce's pitch. "It's hard to say no to her," Menendez said with a chuckle in an interview. "She's charming and tenacious."
Even though Menendez is the chairman of the high-powered Senate Foreign Relations Committee, it's not like he can just walk over to a wall — even in his own committee room — and start pounding nails.
"Nothing is ever that easy," Menendez said.
Once Valcarce had made it into the building, she was subject to its frenetic rhythms. One evening a Menendez staffer told her that she needed more letters of support. And she needed them by the next day, when a big meeting was scheduled to woo the Senate curator's office — no easy task. "They hate influence," Menendez deadpanned.
By noon the next day, Valcarce had managed to acquire testimonials from groups she'd never even heard of, a collection of associations and societies and clubs, including a beach museum in Florida, an association that called itself the "Granaderos" — or grenadiers — of Galvez and a genealogical society in Bexar, Tex.
The goal was a bit more modest than it was when Valcarce began her quest. The 1783 resolution could be read as suggesting that the painting be hung in one of the chambers where either the full House or Senate meets. The advocates now aimed for the seemingly more attainable, but still daunting, goal of getting it into a committee room in the Capitol.