A picture of persistence in honoring a Spanish hero of the Revolutionary War
Teresa Valcarce, Congress and Bernardo de Gálvez
By Manuel Roig-Franzia-The Washington Post | 12/13/2014, 6:15 p.m.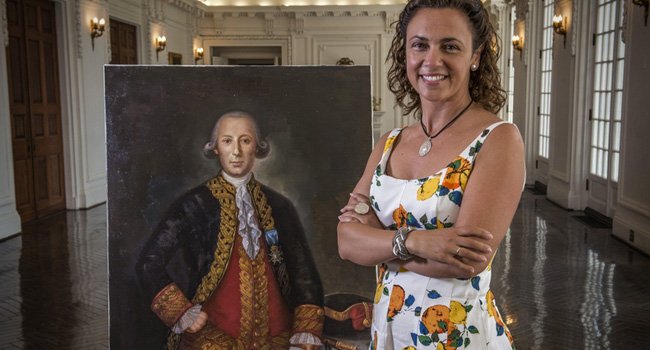 'I need a portrait'
In the midst of all this, Valcarce had an alarming thought. She had been spending all her time lobbying for a portrait to be hung. But she was missing one key thing: a portrait.
No one could point Valcarce to the original Galvez portrait or tell her whether it had ever been delivered — or whether it had even existed, for that matter. Valcarce had searched for it in Philadelphia and New York, following the trail of the Continental Congress. She had even tracked down some Boudinot experts in his home state of New Jersey. Nothing.
She called Manuel Olmedo Checa, the Galvez association member in Malaga who unearthed the 1783 letter.
"Manuel, I'm going to need a portrait!" she said.
Since Manuel knows everything about Galvez, he knew that a portrait with an impressive provenance was kept in a private collection in Malaga. That painting had reputedly been commissioned by the Spanish king to honor Galvez after his return from the Americas. A well-known Spanish artist, Carlos Monserrate, offered to copy the portrait as a donation.
And so it was that in June, Valcarce received a lushly brushed oil painting, roughly 3 feet by 4 feet, of Bernardo de Galvez, posed in an elegantly embroidered suit with a medal pinned to his chest. She stashed it for safekeeping with the Daughters of the American Revolution, who had become enthusiastic supporters. It stayed there until just a few days ago, when a crew hung it on the west wall of S-116, a compact but ornate room decorated in rich golds and reds that the Senate Foreign Relations Committee uses to mark up bills and to host official coffees with heads of state.
Tentative plans are being made for a public unveiling sometime next month, so the portrait hanging has been hush-hush. The Portrait Lady dreams of Spain's monarch, King Felipe VI, coming for the unveiling, or at least posing in front of the painting one day.
"Oh, my God!" she said. "He needs to come. I'm going to call him."
At this point, who could doubt her?