US-Cuba: Florida's Straits
A personal approach
Armando Chapelli-oped | 12/26/2014, 12:46 p.m.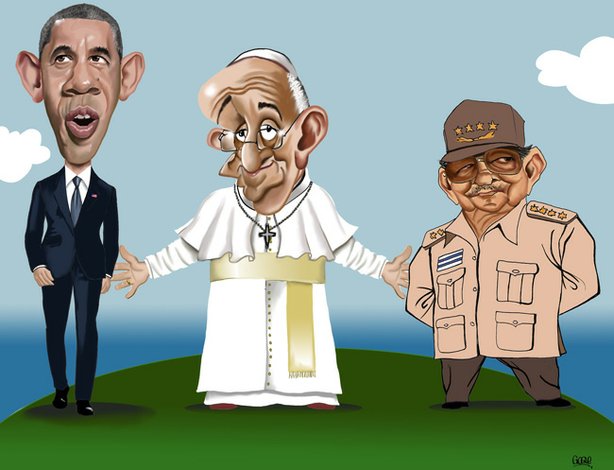 As a Yale law student facing a vexing exam question about the "Continental Shelf," --a topic he knew little about--International Law mastermind Myres McDougal wrote an essay "from the standpoint of the fish." He received an "A," and went on to become a virtuoso in the field. A similar question is now before us, for President Obama's decision to re-establish relations with Cuba puts the United States squarely in the middle of the Florida Straits...without a compass.
I was thirteen when I first saw Fidel Castro in person. Callow though I was, I already knew a lot about him: one grew up political, quickly, in Cuba's 1950s. Already, Fidel had orchestrated urban terror from the mountains; successfully avoided capture in the Sierra Maestra; swept to Havana on January 1,1959 to wrest power from dictator Fulgencio Batista; disarmed the Cuban people; executed thousands (see, http://elveraz.com/asesinados.htm), many on trumped-up charges (like my uncle, Colonel Manuel Larrubia Paneque, a career soldier); confiscated "latifundista" land holdings for his "Agrarian Reform"; nationalized most industries, confiscated private enterprise property and tightened the authoritarian network known as "Comites de Defensa de la Revolucion Cubana". Only one year to the date of his "white dove" speech at Columbia Air Force Base, consumer and industrial goods shortages brought commerce to a crawl; discontent among the faithful started to spread and counter-revolutionary plotting began in earnest, while the First Congress of Latin American Socialist Youth was taking place at the Comodoro Hotel in tony Miramar.
Against this backdrop, I emerged barefoot, in my bathing suit, from the "squash" court at Comodoro, in search of a scarce, stray Wilson tennis ball (Cuban squash is played in jai-alai courts with tennis rackets and balls!). Pushing the bushes aside, I found myself staring at Fidel Castro, Che Guevara, Camilo Cienfuegos (not yet purged), Raul Castro and the entire revolutionary brass--plus Anastas Mikoyan, then First Deputy Premier of the Soviet Union, semi-circling the driveway, awaiting limousines. They stood not ten yards from my apparition. No one noticed.
Later that year, as I strolled down La Rampa on 23 Street, not far from the Havana Hilton (a.k.a., Habana Libre), staring down at the sidewalk and not ahead, I literally--physically--ran into Fidel Castro as he walked down the front steps of Funeraria Caballero, fresh from funeral services for a famously contentious journalist whom he despised. Reflex-reacting, I extended my hand for a shake. Without a glance in my direction, Castro let a cold, limp hand barely reach my fingertips before quickly retracting into conversation. No one noticed.
It wasn't long before the Revolution confiscated all mass media outlets in the country, including El Diario de la Marina, where the decedent had voiced opposition to the Stalinist path the Revolution had taken.
The last time I saw Fidel Castro in person his jeep had pulled up next to a group of public school students lounging in a park in el Vedado. Spurred by sophomoric adulation, Fidel began to speak, but I would not listen: I walked away feeling hollow. No one noticed.
Also of interest