Graham and the DREAMers
Alberto Avendaño/oped | 2/6/2014, 9:26 p.m.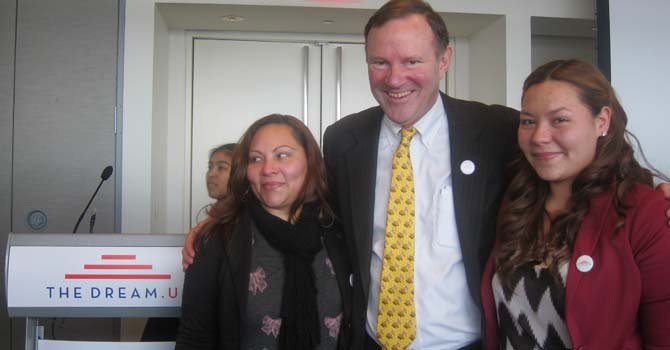 The Dream Act Portal says it all: Over three million students graduate from U.S. high schools every year. Most get the opportunity to test their dreams and live their American story. However, a group of about 65,000 youth do not get this opportunity; they are smeared with an inherited title, an "illegal" immigrant. These youth have lived in the United States for most of their lives and want nothing more than to be recognized for what they are, Americans.
The DREAM Act (acronym for Development, Relief, and Education for Alien Minors) is a bipartisan legislative proposal first introduced in the Senate on August 1, 2001 by Sen. Orin Hatch (R-UT) and Sen. Richard Durbin (D-IL) which would provide permanent residency to certain immigrants of good moral character who graduate from U.S. high schools, arrived in the United States as minors, and lived in the country continuously for at least five years prior to the bill's enactment. The bill has been over 12 years in limbo —a.k.a. Congress.
And now new voices bring hope to many while Congress only offers political stagnation. The CEO of Graham Holdings Company, Donald E. Graham, Democratic activist and philanthropist Henry R. Muñoz III, and former Secretary of Commerce during the Bush Administration, Carlos Gutiérrez, announced Tuesday, February the 4th, the formation of a new national movement —TheDream.US
In the next decade, TheDream.US college scholarships will help more than 2,000 low-income DREAMers graduate with college degrees.
Graham —the former owner of The Washington Post and its sister publication, El Tiempo Latino— says the DREAMers seek the opportunity to contribute to their communities. But often face barriers to receive a college education. We are making a down payment for the future of our country by helping these young people to realize the American Dream, adds Graham.
According to Muñoz, like many who have come before them, our DREAMers hold great promise if given the opportunity to participate in our community.
Meanwhile, Gutiérrez said that if the DREAM Act is not approved thousands of young people will not achieve their academic dreams.
Facebook's founder, Mark Zuckerberg, recently joined other voices from Silicon Valley calling the cause of immigration reform "one of the biggest civil rights issues of our time."
In November 2013, a 25-hour DREAMer Hackathon took place in Silicon Valley, hosted by Fwd.us —the pro-immigration reform advocacy group co-founded by Zuckerberg. At the event, the best "advocacy" tool award went to the app "Push for Reform."
Since Graham sits on the board of Facebook, it feels like a tipping point for the immigration reform movement. At the very least, we finally hear strong, powerful, vehement voices making a long-awaited point.
Avendaño is editor of El Tiempo Latino alberto@eltiempolatino.com
Also of interest