Duncan's Montgomery
The Latino vote must be part of the change in June 24 elections
Alberto Avendaño-oped | 6/10/2014, 12:33 p.m.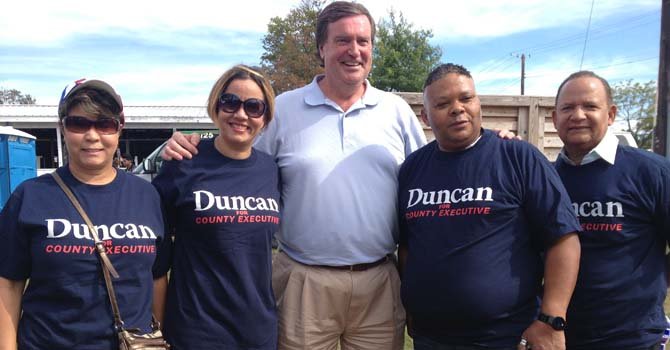 For me Duncan is personal. I arrived in the area in the late 1990's and put myself through menial jobs until midnight every day. Montgomery County became my home and it was the platform that helped my family: Good schools, safe environment, and jobs to restart my life.
Doug Duncan was at the time —from 1994 to 2006— Executive of the County, and he served as the catalyst that helped transform Montgomery. One day, Duncan came to the inaugural event of the company I was working for in Rockville. He delivered a speech about economic growth and community improvement. He was accomplishing what he had promised. A few years later, in my new position as Associate Publisher of El Tiempo Latino, I interviewed Duncan. That interview was unbiased. This column is not.
Doug Duncan is running again and brings a multitude of new ideas, including a revitalization of Wheaton, and a reputation as a doer to a changing county that desperately needs it. He has pledged to work on growing the economy and helping create quality job opportunities for all residents. Creating quality jobs is something Duncan is capable of, as Montgomery led Maryland in job creation previously under his leadership.
Upon his leaving office in 2006, The Washington Post wrote, "even as Montgomery County was being reshaped by immigration, shifting demographics, swift development and rising prosperity, Mr. Duncan was instrumental in maintaining and improving the assets that have made it one of the nation's choicest (and most expensive) places to live: vibrant neighborhoods, excellent social services, efficient government and first-class amenities. Look around at what has made Montgomery dynamic —terrific schools, the revival of downtown Silver Spring, the glittery new Strathmore arts center— and you will see Mr. Duncan's fingerprints. It is an enviable record."
Montgomery County Hispanic community is growing, having nearly doubled our population over the last 12 years. According to Census Data, there are over 180,000 Latinos in Montgomery. We make up 17.9% of the County's population of 1 million people—the fastest growing demographic in the County.
On June 24, in the Democratic Primary for Montgomery County Executive, residents have a paramount choice to make that will significantly influence the long-term future of their county by maintaining the status quo or embracing change.
Despite Latinos making up a higher percentage of students and the employment force, there is a widening achievement gap in our schools, and a drastic increase in the poverty rate. Montgomery County needs to do better. The first step toward change is getting out to vote. The number of Latinos registered to vote has increased, but the number of voters at the polls is dismal. The election on June 24 offers an opportunity to change Montgomery County for the better, and the Latino vote must be part of it.
Avendaño is Executive Editor of El Tiempo Latino
alberto@eltiempolatino.com