'You took a life, but for what reason?'
Family and friends mourn Hollis Johnson, who was slain in his Chillum, Md., apartment complex
Lynh Bui/The Washington Post | 11/7/2014, 11:01 a.m.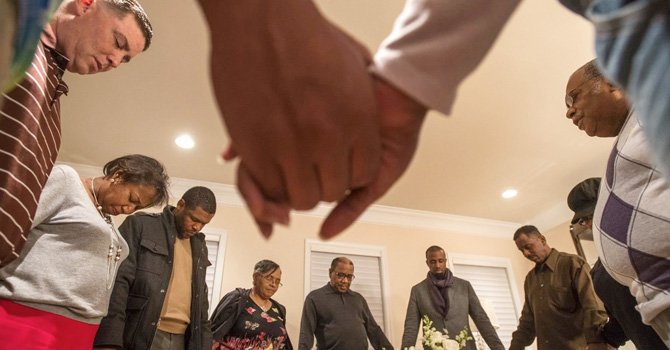 One week after Hollis Johnson was slain, his friends and family gathered at his parents' Woodbridge, Va., home. They bowed their heads, linked their hands and prayed. "Dry their weeping eyes and comfort their lonely hearts," the Rev. Ronald Boykin entreated as nearly a dozen mourners stood in a circle. "Mend them, oh God, in their brokenness."
Police found Johnson fatally shot Oct. 27 in the hallway of his Chillum, Md., apartment complex. As his family seeks the peace and strength to mourn, they are also looking for answers about the violent way their son, brother and friend died.
Johnson, whose nickname was "Hollywood," was well-liked and had a diverse circle of friends, said those who knew him. In his 36 years, Johnson never got into trouble, his family said. He had no run-ins with the law except for the occasional traffic ticket, records show.
"We don't know of an enemy he's ever had in his life," Johnson's brother Phillip Lee, 45, said. "I don't even know of a fight he's ever got into. It's baffling."
The night Johnson died, his family said, he had just returned home from an upscale bar in Northwest Washington where he had watched the Redskins play the Dallas Cowboys on "Monday Night Football."
Johnson was talking to a friend on a cellphone as he entered his apartment building, his parents said. But before Johnson got to the door of his home, family said, the conversation stopped and the friend he was talking to heard what sounded like rustling.
A shot was fired at about 11:20 p.m., according to police and family.
At least one neighbor and the person on the phone heard Johnson scream for help. After a neighbor called 911, Johnson was taken to a nearby hospital, where he later died.
Nothing was taken from Johnson, his family said. Prince George's County police say they cannot release information about a suspect or motive because of the ongoing investigation into the slaying.
After the prayer circle in Johnson's honor Monday, people sat around the dining room table, pulling up photos of him on their phones and sharing memories. They recalled his big personality, his talent in the kitchen and his love of sports, especially basketball. Johnson, who was born in New York and raised in Virginia, first started playing basketball when he was 7.
Well-respected coaches at basketball camps often commented on his ball-handling skills, according to Johnson's father. His friends remembered the little boy who effortlessly dribbled the ball between his legs like a pro.
"I was amazed at how good he was at such a young age," said Torrey Farrington, 37, who for the past three decades played basketball with Johnson and their best friends Aaron Burrell and Glen Hodge.
"His ball skills, that's what he's known for."
Johnson continued to play basketball into college, eventually landing a spot as a National Rookie League player for the old Washington Justice team.
As a point guard, Johnson earned the nickname "Hollywood" for his flashy moves on the court.