Undocumented Immigrants in MD and VA will be watching
Obama's speech at 8pm
Pamela Constable-The Washington Post | 11/20/2014, 2:21 p.m.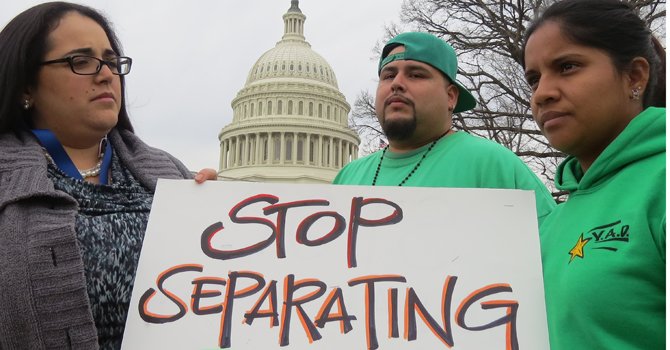 Maryland and Virginia, with a combined total population of 525,000 undocumented immigrants, could be substantially affected if President Obama offers deportation relief to some groups of undocumented immigrants, according to a report issued by the Pew Research Center on Tuesday.
But the extent to which undocumented immigrants in the region will benefit depends on the details of the order.
If the president decides as expected to focus on helping undocumented parents of children who are U.S-born, school statistics suggest that the Washington region will have a lower percentage of eligible applicants than the national average, Pew said.
Nationwide, at least 4 million such parents could benefit from such a policy, and states with large numbers of illegal immigrants — led by California, with 2.45 million, and followed by Florida, New York and New Jersey, each with over half a million — would be the most heavily affected by a presidential ­order.
The Pew report, issued in anticipation that the president will take such action imminently, says that Maryland and Virginia have experienced among the largest increases in number of illegal immigrants nationwide since 2009, with both populations rising by 15 percent during that time.
Nationwide, however, the illegal immigrant population is declining or remaining stable, officials at Pew and a second research institute said Tuesday, noting that the undocumented population has decreased in 14 states and risen in only seven since 2007, which was the peak year.
According to a profile of the illegal immigrant population to be published Wednesday by the Migration Policy Institute, 3.4 million unauthorized immigrants have lived in the United States from five to nine years, and an additional 5.4 million from 10 to 20 years.
"We are seeing an unauthorized population that is deeply settled here," said Marc Rosenblum, deputy director of U.S. immigration policy at the policy institute. "They have real roots in communities over a big chunk of time."
Obama's expected order would reportedly be aimed at undocumented immigrants who have multiple ties to the United States, in terms of work, family and years of residence.
Jeffrey Passel, one of the authors of the Pew report, said state-by-state data showed that concern over illegal immigration has not always been proportional to the size of the local undocumented population. Alabama, for example, has passed strict laws aimed at driving out illegal immigrants, yet only 1.2 percent of its populace is undocumented — one of the lowest levels in the country.
"Nationwide, the numbers are going down, and we are not seeing increases," Passel said, adding that the main cause was a steady decline in the number of Mexicans seeking to enter the United States, now at a 40-year low. The Obama administration has also carried out a massive campaign to deport illegal immigrants who break other U.S. laws, in part to bolster support for legalizing those who have clean records.
According to Pew, while nine states have more unauthorized immigrants than Maryland and ­Virginia, only six have higher percentages of them. In Maryland, the percentage is now 4.3 percent of all residents; in Virginia, it is 3.5 percent. The report was based on statistics from 2012.
Also of interest