Undocumented Immigrants in MD and VA will be watching
Obama's speech at 8pm
Pamela Constable-The Washington Post | 11/20/2014, 2:21 p.m.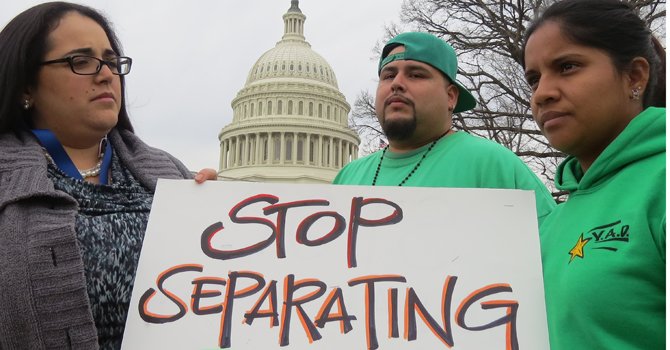 Maryland now has 250,000 unauthorized immigrants and Virginia has 275,000, the report estimates. In the District, there has been no growth in illegal immigrants, who number about 20,000 and comprise 3.1 percent of the population, Pew said.
In the Washington area, the largest undocumented immigrant group by far is from El Salvador, followed by other Central Americans and Mexicans; in most of the country, Mexicans are the largest such group.
Nationwide, the Pew report says that about 4 million of an estimated 11.2 million illegal immigrants live with U.S.-born children, a factor that is expected to be the major criterion for granting deportation relief.
The Migration Policy Institute put the number of potentially eligible parents at the slightly lower figure of 3.46 million, but it said that could increase to 5 million if Obama decides to count recently legalized children as grounds for deportation relief. About 700,000 illegal youths have applied so far, according to Rosenblum.
The president has not yet decided whether to do so, but he is said to be considering making more undocumented immigrant youths eligible for deportation relief by liberalizing the terms of his 2012 order, such as raising the maximum current age from 30 and lowering the minimum arrival age from 16.
Passel, the senior demographer at Pew, said that the number of U.S.-born children with illegal parents is "just not that big." He said that with an average of 6.9 percent of children having an illegal parent, about 1 of every 15 schoolchildren would fall into that category.
Despite the large populace of undocumented immigrants in the Washington area, however, only a small percentage of school children in either state have an illegal parent. In Maryland, only 5.7 percent of children in kindergarten through 12th grade have an illegal parent; the number is 5.5 percent in Virginia and 4.9 percent in the District. By contrast, Nevada has 18 percent and California and Texas each have 13 percent.
Officials at Pew said the report did not include unauthorized minors from the U.S.-Mexico border who were sent to live with parents or other relatives this year. Federal government agencies have said about 3,000 of a total of 37,000 such minors have been relocated to the Washington area.
In terms of the labor force, Pew reported that about 200,000 unauthorized immigrants in Maryland and about 200,000 in Virginia were working or seeking work. In Maryland this constituted 6.1 percent of the labor force and in Virginia 5.1 percent, which is also the national average.
Also of interest