Gato's chilling premises
About Pablo Gato's new novel
Alberto Avendaño-oped | 11/25/2014, 2:54 p.m.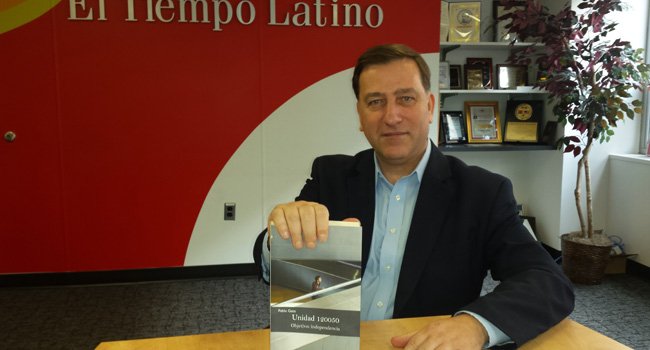 What's the connection between the terrorist group Islamic State of Iraq and the Levant (ISIL) and the independent movements in Europe, such as the one in Catalonia, Spain? Is the CIA torpedoing these movements under the radar? Are they a threat to US national security? Why?
These are some of the chilling premises of the book Unidad 120050 – Objetivo: Independencia (Unit 120050 – Objective: independence)" by local author, and my friend, Pablo Gato.
I've known Pablo for 15 years. He's a renowned TV journalist who has worked for CNN, NBC, CBS and Telemundo.
He has won two Emmys and received two Mentions of Honor from the National Academy of Television, Arts and Sciences.
He has covered more wars and conflicts than any other reporter in the Latino market. From Bosnia to Iraq, from Afghanistan to Panama, from Panama to Nicaragua. You name it. A
ll these experiences gave him the opportunity to know intimately the worlds of national security and espionage. Now, he has published his second novel, a thriller where reality and fiction go hand-in-hand.
The book describes a rebel ETA cell —the terrorist group in Spain— that doesn't support the current peace process and decides to launch a terrible plan to achieve independence from Madrid.
Once the CIA understands how this could affect US national security, the Agency puts in place an operation to protect American interests not only in Spain, but also in any Western European countries with independent movements. Failure to succeed could mean an open door for ISIL in Europe and, eventually, the US.
Gato's extensive research is obvious. Yes, it is a work of fiction, but he explains in detail how these situations could materialize tomorrow.
A significant part of the book takes place in DC. He portrays characters he knows from his experiences as a journalist and with the espionage community. Some of them, of course with different identities, will sound very familiar to some people.
The number 120050 also has huge historical significance, but I won't spoil the plot by sharing it here. In this part of the world we also have many countries with independent movements, such as in Bolivia. Could the plot described in Unit 120050 also happen in any of these countries?
This is a terrific read. Unidad 120050 – Objetivo: Independencia (Gregal) has been very well received in Spain and Latin America with very positive reviews and coverage in over 30 news outlets.
Pablo is a local author who writes great thrillers. Locally, we have other thriller specialists such as Daniel Silva. However, the world of espionage thrillers is not only reserved to authors such as Silva or John le Carré. In the Hispanic world we also have great examples of fantastic reality based novels. My question is: when will I see Gato's books translated to English?
AVENDAÑO IS EDITOR OF EL TIEMPO LATINO
ALBERTO@ELTIEMPOLATINO.COM
Also of interest