Awards for El Tiempo Latino
José Martí Awards
Alberto Avendaño-oped | 10/2/2014, 12:42 a.m.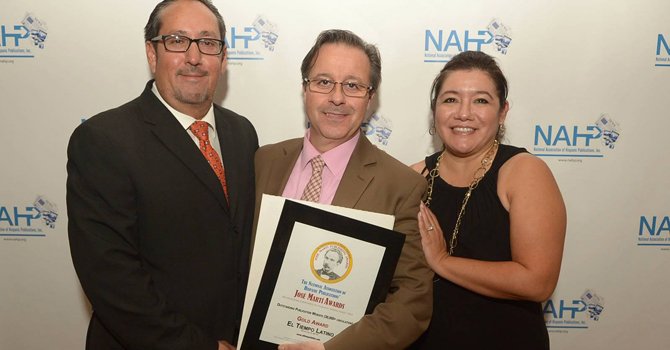 El Tiempo Latino received a Gold Award as Outstanding Hispanic Weekly by the National Association of Hispanic Publications (NAHP) at the 2014 José Martí Awards for Excellence in Publishing held at the 32nd Annual NAHP Convention September 23-27 in Chicago, Illinois.
I want to believe that our awards and our rewards in life are in exact proportion to our service —That our contributions are being valued.
This is the 14th time and the 10th year in a row that El Tiempo Latino receives this award in the 23-year existence of the newspaper. More than 200 entries competed for awards. El Tiempo Latino received a total of 14 distinctions for news stories, photography, editorial cartoon, newspaper sections, editorial video, design, web site...
I want to believe that our awards and our rewards in life are in exact proportion to our service —That our contributions are being valued. Our history as a reputable publication is as important to us as the difference we have made —and continue making— in the lives of our readers, our community, and our employees.
In 23 years, I have seen El Tiempo Latino employees and collaborators getting green cards and then citizenship and then a new life full of promise. We have helped with the first steps of professionals who now are at ESPN, The World Bank, Univision or The Washington Post. It feels good to know that for some we have been a friendly incubator.
I have witnessed the reunification of families broken by a dysfunctional immigration system. And I was told how an immigrant mother got out of a detention center because an attorney read her story in El Tiempo Latino and thought that something could be done. Because of our involvement in our community students have been helped, dreams have been achieved, and hope has been restored for many. Those are the intangibles this humble weekly brings to the community table. And we will continue doing our duty as Hispanic media professionals —tell the untold story and serve the underserved. Paraphrasing Melissa V. Harris-Perry —who wrote about "Shame, Stereotypes, and Black Women in America"— it is our journalistic duty to help build a system that offers Hispanics equal opportunities for public recognition.
El Tiempo Latino —a small independent company that is part of The Washington Post since 2004— has never pursued awards or acknowledgement. But if in the course of human events, it becomes necessary for an institution such as NAHP to honor some of our accomplishments we will not hide. We were told in Chicago that these truths are self-evident: Hispanic print continues to be the number one source Latinos turn to for local news with 57% of Latino households using at least one Latino newspaper on a weekly basis.
Yes, Hispanic print media need recognition...
The good thing about being an immigrant is that there are people in foreign countries who can recognize you. And then there is the new land where you must walk the long, hard path toward recognition. This is the way immigrants make the difference.
Avendaño is Executive Editor of El Tiempo Latino alberto@eltiempolatino.com
Also of interest