Ben Bradlee, a hero to The Post newsroom
"We all loved Ben Bradlee"
By Donald Graham | 10/21/2014, 10:32 p.m.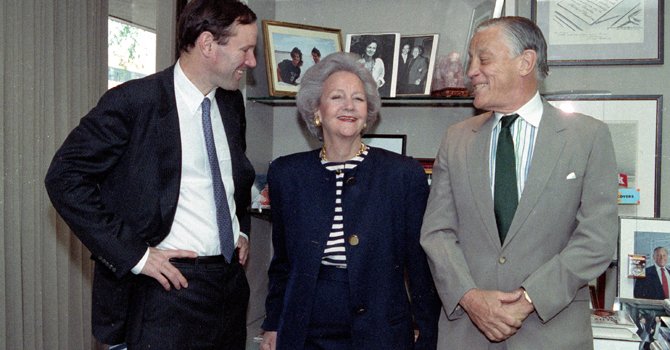 In the next few days you will hear real sadness from hundreds of people who work or used to work at The Post. I would like to tell you why we all loved Ben Bradlee so much — loved working for him, loved working with him — and why we felt he could make anything possible.
When my mother, Katharine Graham, picked Ben to be managing editor of The Post in 1965 and then executive editor in 1968 — her first significant action as publisher — the two of them held huge ambitions for the paper. Ben's ambition had taught him one thing: He had to work hard. "I knew it would take thousands of extra hours to begin to know what to do." But he had borne plenty of responsibility early in his life (he served as a officer on a destroyer in the Pacific in World War II), and as he wrote later: "I was aching to do it."
As he settled in, Kay Graham was watching. Never sure of herself and prone to second-guessing her judgment, she knew she had made the perfect choice. "He's there nights, he's there weekends," she told those around her. "And you should see the people he's hiring."
That was what Ben concentrated on: hiring. "There was so much I didn't know — about presses, about composing rooms, about budgets," Ben wrote, "that I decided to concentrate on the one thing I did know: good reporters."
They were good, and they were tough. Among his first hires were Richard Harwood, who had lost a lung in the invasion of Tarawa in 1943, and Ward Just, who would later be wounded in Vietnam. David Broder was another crucial early hire.
Bradlee roamed the building, prodding the production and advertising departments as well as the newsroom. He wanted to make things much better — now. He wasn't always right, but he helped Kay get a far better understanding of where the Post's problems lay.
It was perfect preparation for the paper's watershed moment: the 1971 decision to print the stories based on the Pentagon Papers. The New York Times had spent months preparing a series of stories based on these top-secret documents, but it was enjoined by a federal court from printing more after the first ones appeared. One day after the injunction was issued, Daniel Ellsberg gave the papers to The Post. Bradlee and his team were pushing hard to print their story the following day. But every lawyer in the place was opposed.
Ben knew the next step, the only step that would give Kay the confidence she needed to publish. Without authorization, he called a greater lawyer, his friend Edward Bennett Williams. They had met when Ben was a Post reporter covering the U.S. District Court in Washington and Ed was flamboyantly winning cases and building his reputation. Summoned by a note begging him to ask for a recess in a Chicago trial and call Bradlee, the football-loving Williams heard the story and said, "Christ, Benjy, you're behind 28-0, and it's the fourth quarter. You've got to print."
Also of interest