Ben Bradlee, a hero to The Post newsroom
"We all loved Ben Bradlee"
By Donald Graham | 10/21/2014, 10:32 p.m.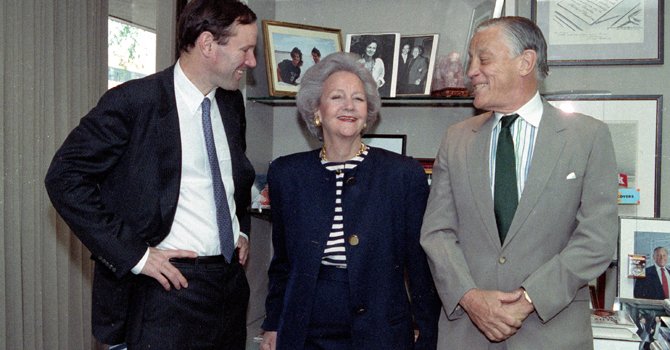 Williams, at the time, didn't represent The Post. But facing supremely high stakes (among other things, the Washington Post Co. was going public that week; there had also been a clear threat made to our television-station licenses), Kay decided to print the story. Days later, the Supreme Court ruled that the newspapers could not be prevented from doing so.
The outcome of the Pentagon Papers case bred a perfect confidence between editor and publisher. When the Watergate stories came along, there was unhesitating support for the newsroom's work. As Kay put it later, "He set the ground rules — pushing, pushing, pushing, not so subtly asking everyone to take one more step, relentlessly pursuing the story in the face of persistent accusations against us, and a concerted campaign of intimidation."
Usually, Ben told her in advance when a big story was breaking. Once during Watergate, he did not. When reporter Carl Bernstein called Attorney General John Mitchell to ask about his control of a secret fund used to gather information on the Democrats, Mitchell exploded. "Katie Graham's going to get her tit caught in a big fat wringer if that's published." Ben didn't get around to calling his publisher. After the story ran, he told her, "That was too good to check with you, Katharine."
Through big stories and small — the Pentagon Papers and Watergate were only the beginning of it — those tough reporters on Ben's staff came to know they were working for someone great. You could safely call the Post newsroom staff hard-bitten. They were men and women who had no heroes. But he was their hero.
It went both ways. In the aftermath of the Supreme Court decision on the Pentagon Papers, here's what he said to the newsroom: "The guts and energy and responsibility of everyone involved in this fight, and the sense that you were all involved, has impressed me more than anything in my life. You were beautiful."
You too, Benjy.