'He was not afraid.' The funeral of Benjamin C. Bradlee
National Cathedral, Washington, DC
By Paul Farhi, Mark Berman and Amy Argetsinger-TWP | 10/29/2014, 1:22 p.m.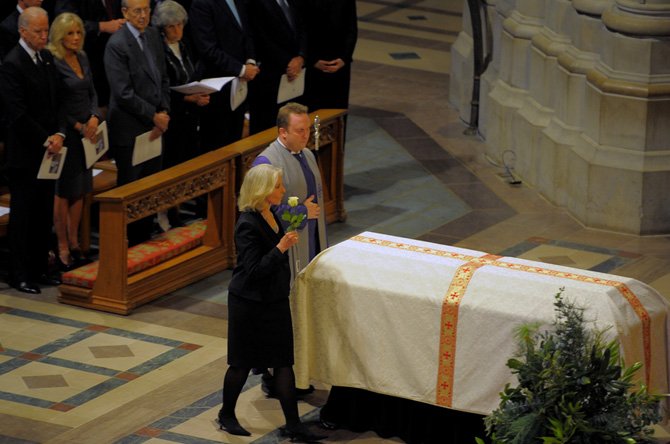 A sea of mourners gathered at the National Cathedral in Washington, D.C., to remember Benjamin C. Bradlee, the editor who guided The Washington Post's newsroom for nearly a quarter of a century.
The funeral Wednesday morning was an opportunity for a long list of colleagues, friends, politicians and luminaries to remember Bradlee as a pivotal force in American journalism, a man they said inspired awe in his employees and showed no fear during a career spent searching for the truth. But amid the famous names and the security details, it was also a chance for his loved ones to say goodbye.
"My father was the happiest man I ever met," Quinn Bradlee, his youngest son, said during emotional remarks that were followed by people dabbing their eyes across the cathedral. "Everyone who ever met him wanted more of him. They wanted to be his best friend. They wanted to please him. They all reacted the same way."
The famous newspaperman was recalled for his personality and exploits, but he was also exceptionally welcoming and kind, Quinn said.
"He lived, he loved, he laughed," he said. "We should all strive to take this path."
"We knew somebody much better than his very large reputation," Donald Graham, the first speaker and former publisher of The Post, said during his remarks. "Even braver, even smarter, much more fun."
"He had his faults, and if my mother Katharine Graham was still here, believe me, she could go on a very long time about those," Graham continued. "But she literally wrote the book about how great Ben Bradlee was, and it was a very long book."
Ben Bradlee Jr., wearing a tie and shirt that belonged to his namesake, recalled his father as someone who naturally used off-color language and did not dwell extensively on mistakes and missteps. "He was not introspective in the least," Bradlee recalled, but he was someone who encouraged others to have fun.
Other speakers at the service for Bradlee, who died last week at 93, included Carl Bernstein and Bob Woodward, the reporters who broke the Watergate story under Bradlee; Washington Post editors and writers; andTom Brokaw of NBC News.
"He was not afraid," Carl Bernstein said during his remarks. He recalled a time when he and Bob Woodward, reporting on the Watergate story, had to ask Bradlee about comments made by then-Attorney General John Mitchell. As Bernstein recalled, Bradlee told the young reporters that if their reporting was correct, if they had identified themselves, that was all that mattered.
"He pulled off being Bradlee because he wasn't afraid," Bernstein said. "Of presidents, of polio, of political correctness, of publishing the Pentagon Papers…of making mistakes."
Woodward, speaking after Bernstein, called Bradlee "a journalistic warrior" who prowled the newsroom searching for hidden truths, gossip and news. He said that the people who worked under and with Bradlee loved him. "In almost every discussion or encounter with Ben, no matter how fleeting, he made you feel better about yourself," Woodward said. "He made you want to be better."
Also of interest