'He was not afraid.' The funeral of Benjamin C. Bradlee
National Cathedral, Washington, DC
By Paul Farhi, Mark Berman and Amy Argetsinger-TWP | 10/29/2014, 1:22 p.m.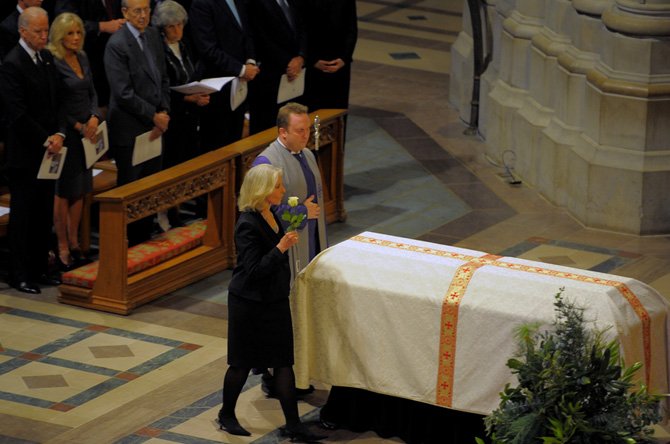 The service was open to the public, so members of the community filled the main section of the cathedral along with a roster of bold-faced names including Jeff Bezos, owner of The Post, Vice President Biden and Jill Biden, Secretary of State John Kerry, Supreme Court Justice Stephen Breyer and Sen. Patrick Leahy.
The room was filled with journalists who had worked for Bradlee years ago and those who only knew his legend, as new media gathered alongside old media. At the cathedral's entrance before the service, two of Bradlee's successors at The Post – Marcus Brauchli and Leonard Downie — had gathered together. Arthur Sulzberger Jr. and Dean Baquet, publisher and executive editor of the New York Times, respectively, were joined by former Washington Post publisher Katharine Weymouth.
"He was larger than life," Weymouth, a pallbearer, said. His death is "the end of an era and the beginning of a new era."
But among those who spoke to the assembled crowd, there were calls to remember Bradlee for more than his personality and history. They instead said that people should look to the work Bradlee did and championed for guidance.
"Future journalists should ask, 'What would Ben do?'" David Ignatius, a columnist for The Post, said during his remarks.
Outside, mourners had shared space on sidewalks with packs of St. Albans' students in school uniforms, the children mixed with former Defense Secretary Donald Rumseld and journalist Ted Koppel.
Inside, people who had worked with Bradlee recalled their experiences. Peter Perl, a former Post editor and reporter, recalled his interview with Bradlee.
"Ben asked me, 'So why should we hire you?'" Perl said Wednesday. "I said, 'I'm a really good softball player and I can really help the Post's team.' Ben laughed at that. I got the job."
Elizabeth Drew, the veteran political journalist and the preeminent chronicler of Watergate who did not work for Bradlee, looked around at the hundreds of mourners, impressed by the turnout.
"Some are here because it's to be seen," she said. "But for most, it's a real affection. A lot of friendships that go way back. Look at the range of people! It's just amazing!"
There was a reason for that, Drew said. "He was a good man," she said. "He was a nice man. He was kind."
Cathy Horyn, who recently retired as the New York Times's longtime fashion critic, recalled Wednesday what happened when he hired her in August 1990 after a breakfast meeting. "I was terrified," she said. "I was very impressed and awed. I was babbling about fashion, and finally Ben said, 'I know nothing about fashion. I always counted on Nina Hyde to tell me what I needed to know, and I want to count on you to do that for me."
There were also stories of how Bradlee would stand up for his reporters. John Harris, a former Post reporter who co-founded Politico, recalled a time he wrote a profile of someone in suburban Maryland who was unhappy at being labeled an irresponsible firebrand.
"He wrote a five-page letter to Ben," Harris said. "He replied with two sentences: 'You aren't serious. If there aren't some people who'd consider you an irresponsible firebrand, I'll eat that piece by John Harris.' It was the best thing a 22-year-old reporter could imagine."
The Very Rev. Gary Hall, the Cathedral's dean, officiated the service.
Also of interest