D.C.-area schools scramble to meet the emotional needs of undocumented children
New immigrants
Pamela Constable-The Washington Post | 9/9/2014, 4:36 p.m.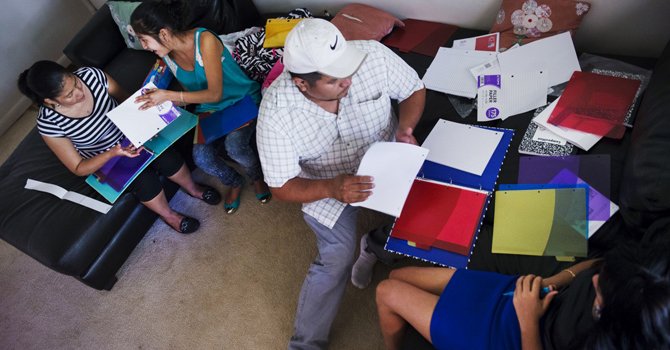 While several school counselors and therapists described a variety of problems they have seen in newly arrived children, they said confidentiality rules barred them from discussing individual cases.
Chavez said she had heard numerous stories about violent drug gangs kidnapping children and their smugglers as they made their way across Mexico. Several counselors said some teenage girls had been sexually assaulted en route or had previously been abused by relatives.
Many troubled children have been reluctant to speak about their past experiences, making it difficult for even Spanish-speaking therapists to reach them in a few short meetings. Chavez said she urged the children to develop "coping skills," such as drawing pictures for younger ones and keeping journals for older ones.
Lowinger said such children might "withdraw and isolate themselves" in class. "The main thing we try to do is offer a safe space where they can begin to open up and express what they feel," she said.
Diana Sosa, a school social worker in Herndon, said Fairfax schools have established mentoring programs and ties with a network of ­churches, businesses and social agencies to supplement staff services for immigrant children who need emotional or psychological support.
But she also noted that local Latino gangs often prey on new students who seem lonely or alienated — much as they would do in Central America.
"These kids have so much on their minds. It makes them very vulnerable," Sosa said. "We try to find them support and mentors. If they don't get assimilated and learn English and begin feeling like they belong, they are much more apt to be recruited."
Schools' Burdens
One reason schools must shoulder these burdens is that the children may not feel comfortable confiding in parents or relatives who barely know them after years apart and who may have high expectations about their ability to adapt and succeed here.
And even for young people who have grown up amid violence and poverty, counselors say, it is a shock to be wrenched away from routines, friends, and the relatives who raised them.
Three months ago, teenagers Marlen and Mircy Rac Roque were living with their grandparents in Guatemala. They had not seen their father, Angel Rac, a construction contractor in Alexandria, in eight years; their mother, Silvia Roque, left to join him four years ago.
In May, both girls finished the school year, and Marlen celebrated her "Sweet 15" birthday at a formal ball, posing like a princess in a lacy lavender gown. Neither she nor Mircy, 13, had any idea what was coming.
Angel, whose business in Guatemala had once been threatened by gangs, feared that they would begin to harass his adolescent daughters, so he arranged to have the girls brought to the U.S. border. On June 11, they were put on a bus, carrying only water and food. After a short stint in U.S. federal custody, they were flown to Virginia.
They have spent the weeks since in a small apartment, watching Spanish-language TV and getting used to being a family again. One weekend, Angel took them to the beach, but they complained that the water was too cold to swim.
Last week, as the girls prepared to start school in Alexandria, Angel took them shopping for supplies. At home, he carefully wrote their names on two stacks of notebooks and binders. Mircy was glued to the TV. Marlen sat silently on a sofa, filing her nails. Their mother brought out some photos from the Sweet 15 party, and Marlen smiled faintly.
Their father, holding up the newly labeled supplies, grinned happily.
"This is what we dreamed and worked for all these years," he said. "I haven't seen my girls since they were babies. Now they are finally here, they will study hard, and they will start a new life."