D.C. kids bring basketball to Guatemala
Through a program called Hoops Sagrado
Ashlee Brown Blewett-The Washington Post | 9/16/2014, 9:55 a.m.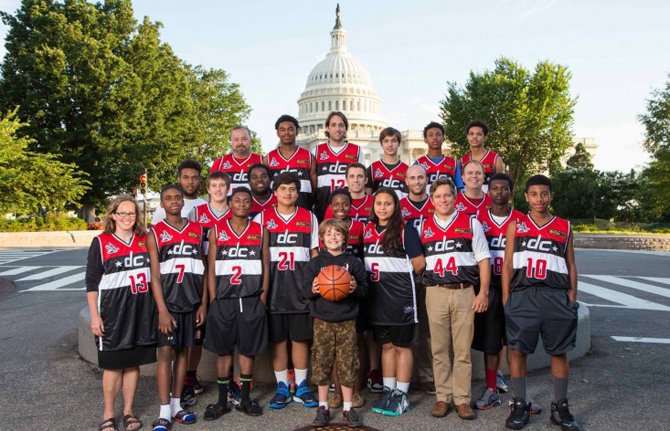 Before their trip to Guatemala this summer, Carlos Espinosa and Johanna Ayala had never traveled outside the Washington area. Neither had even set foot on an airplane. But their trip to the Central American country was not a summer vacation. The students were there to share their love of basketball through a program called Hoops Sagrado.
Glossary
airplane — avión
basketball — básquetbol/baloncesto
camp — campamento
country — país
court — cancha
hoop — aro/canasta
kids — niños
summer — verano
team — equipo
to play — jugar
tournament — torneo
trip — viaje
winner — ganador/campeón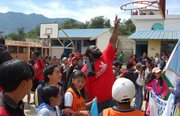 Hoops Sagrado Basquetbol — which means "Sacred Hoops Basketball" in Spanish — is a youth leadership organization based in Washington. Every summer, the organization selects a team of about 20 kids from the D.C. area to spend three weeks in Quetzaltenango, a city in the highlands of Guatemala. The cost of the trip is paid for by donations. In Quetzaltenango, known commonly as Xela (pronounced "shell-ah"), the students run basketball camps for Mayan children who live in four of the surrounding villages, called aldeas.
When the Hoops Sagrado students are not teaching or playing basketball, they attend classes in Spanish or Quiché (a Mayan language that is pronounced "KEY-shay"), visit homes of Mayan artisans and travel to archaeological ruins.
Making the team
Not everybody who applies to be part of Hoops Sagrado Basquetbol gets selected to go to Guatemala. The chosen students, ages 13 to 17, filled out an application, wrote an essay about why they want to be on the team and attended an interview. Typically, about half of the applying students — most of whom are experienced players — make the team.
Johanna, 15, was in math class at the E.L. Haynes charter school in Washington when she received her acceptance e-mail. She shouted, "Yes!" and all eyes turned to her. Carlos, 14, who attends Chelsea School, a private school in Hyattsville, was just as excited to learn that he had been accepted.
"It's just intriguing that someone like me, at my young age, could help other little kids through a sport that we love," Carlos said.
The Mayan children who attend the Hoops Sagrado basketball camps are in fifth and sixth grades. Public education for many Mayans in Guatemala ends after sixth grade because their parents cannot afford to pay the school fees. The kids will be expected to find work to help support their families.
"For most of [the campers], this is a huge deal for them," said Hoops Sagrado founder Bryan Weaver. "It's their last big thing" before finding work, he said.
Home away from home
Although Carlos and Johanna were excited about traveling to Guatemala, both were a little nervous. The students would be living with host families.
"I was scared, because I would be staying with these people I didn't really know," Johanna said.
Life in Xela is different than in Washington. Most people speak only Spanish or Quiché. Mayan women and girls wear long skirts and tops, which they call típica. The clothes are woven from brightly colored yarn. And the food is traditional Mayan cooking, which includes chicken, vegetables, rice and homemade corn tortillas.