Schools move toward 'Bring Your Own Device' policies
to boost student tech use
Donna St. George-The Washington Post | 9/16/2014, 3:20 p.m.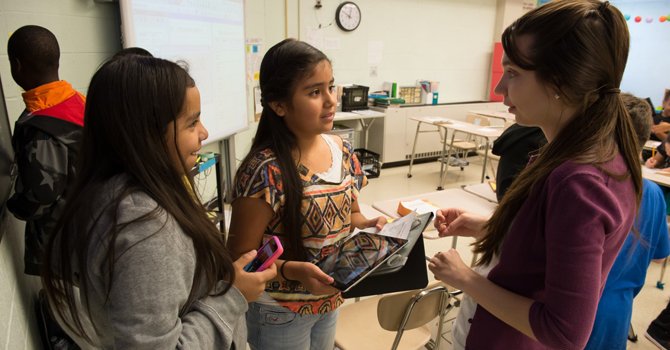 His iPhone is on his desk, out in the open, and Joshua Perez's teacher does not take it away. Instead, she asks the eighth-grader and his classmates in honors geometry at Argyle Magnet Middle School to Google the words "vertex form parabola."
In seconds, Joshua finds what he needs for the day's lesson and homework. "It's way better and faster than looking it up in a textbook," he says.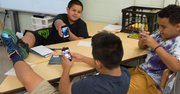 The 13-year-old's enthusiasm is matched in other Montgomery County classrooms as educators take their first steps into a practice known as "BYOD": bring your own device.
The idea of allowing students to use their own technology in schools to enhance academic instruction is a significant departure from the cellphone bans of old. But it has increased in a number of school systems, including those in Fairfax and Prince William counties, as educators look for ways to embrace the digital world.
In Fairfax, where BYOD began in 2011, Maribeth Luftglass, assistant superintendent for information technology, points out that students have carried devices in their backpacks for years. "It just wasn't necessarily official," she said. Part of the changed thinking, she said, has been to "acknowledge what was happening and embrace it."
Such approaches come as many school systems are investing heavily in laptops and tablets, with an eye toward one-to-one computing, which provides a device to each student. But some districts find that impractical, and in Montgomery, school leaders are taking a blended approach that they say is more affordable and sustainable: supporting BYOD practices as they also buy thousands of Chromebooks and tablets.
Montgomery recently adopted a technology initiative that aims to provide 40,000 computing devices to students this school year, the first phase of a plan to bring 100,000 laptops and tablets into schools by 2017-18.
Montgomery's chief technology officer, Sherwin Collette, said school leaders are revising regulations for mobile devices and drafting guidelines for responsible use in schools. The schools plan to engage their communities on BYOD practices, and there is a ballpark goal of formalizing the practice in Montgomery when the second semester begins in January.
But in some places, there are signs of change right now.
Argyle Middle, with its mission as a digital design and development magnet school, is among the early adopters. BYOD is now common in its independent-reading period and on the rise in classrooms.
"It's beginning, but we have momentum," Principal Robert Dodd said. "It's moving toward a place where it's going to be standard operating procedure for learning, done in a strategic way."
Dodd said support has been strong among teachers, a number of whom are millennials. "They're comfortable with technology in their own learning, and that is trickling down to being able to use technology effectively for their students' learning," he said.
Teacher Casey Siddons worked with his sixth-graders on character development related to the novels "Maniac Magee" and "Tuck Everlasting" on a recent school day. He told students they could use smartphones to take photos that illustrate character traits and actions. Students buzzed with excitement.