Schools move toward 'Bring Your Own Device' policies
to boost student tech use
Donna St. George-The Washington Post | 9/16/2014, 3:20 p.m.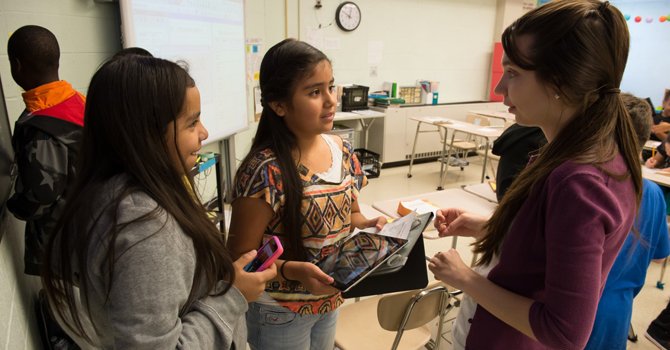 "We're more used to looking up things on a phone, learning things on a computer," said Devin Downer, 11. "It's . . . kind of our style."
Upstairs, science teacher Grace Romanelli's class was working in small groups with their smartphones — so everybody didn't need one — as they created videos or picture collages that describe a microscope's parts and how it works.
Romanelli said parents were receptive at a recent back-to-school night, when she described BYOD and asked them to sign permission slips. "There were a lot of wide eyes and nods and oohs and aahs," she said. "They were definitely interested."
But as the change gains attention, many parents have questions.
Frances Frost, president of the county's council of PTAs, said she wonders how the change will work and how teachers will control the way students use technology while in the classroom. She is concerned about the devices becoming a classroom distraction and wonders how students without devices or data plans will keep up.
Montgomery school officials said the county's plan to purchase tens of thousands of devices will minimize differences in what students own or bring to school. They also said that BYOD is classroom-based and that teachers are sensitive to issues of equity.
Students are accustomed to working in groups and sharing devices, Dodd said, adding that "teachers are strategic about filling the gap when kids don't have their own technology."
Around the Washington region, some school systems have not adopted the practice, including D.C.'s public schools.
Loudoun County plans to unveil a plan during the next few months. Arlington, which has a plan to provide a device to every student by 2017, also has piloted BYOD at some schools.
In its first year of BYOD, Fairfax registered 1,900 devices, and there are now more than 10,000. "We expect even more this year," Luftglass said. "I expect it to go way up."
Other school systems have visited Fairfax to observe its approach, Luftglass said. She said Fairfax has not seen major problems. "It adds to the technological resources available in our classrooms," she said.
In Prince William County, this school year marks the third for BYOD, and its use has been on the rise, said A.J. Phillips, supervisor of instructional technology services. The first year, high schools, for example, had an average of 45 active devices in use at any given time during the school day, and last year that average rose to 534.
"Every year I've seen an increase in the number of devices," she said. Use varies by school and teacher, she said. "Like any tool in the classroom, some teachers are going to embrace it and some are not."