For comeback-minded Michael Phelps, timing is not everything
Phelps is pushing 30 years old now. His times don't appear to be getting any faster
Dave Sheinin/The Washington Post | 4/19/2015, 12:45 p.m.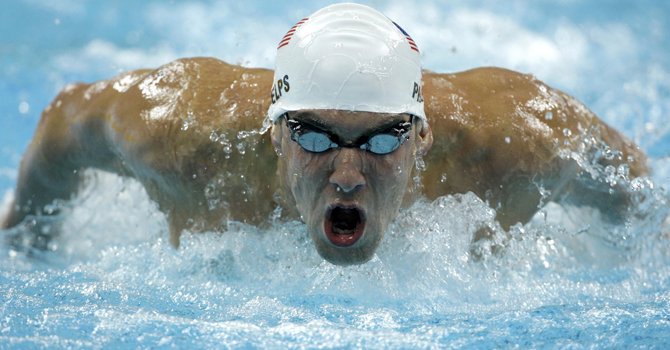 MESA, Ariz. — Michael Phelps pulled himself out of the pool for the gazillionth time in his life, collected his clothes and walked from the competition pool to the warm-down area at Skyline Aquatic Center. The days are long in swimming — morning preliminaries at 9 a.m., finals at 6 p.m. — and the clock never lies. Phelps is pushing 30 years old now. His times don't appear to be getting any faster.
But at least for this time of year, the April of an Olympic off-year, the numbers are just numbers. Phelps, who calls himself a changed man since he emerged from the tumult of the past eight months, says he feels like he is back in high school, so energized is he by his return to the pool this week.
On Saturday night, in the final session of the four-day Mesa Arena Pro Swim Series meet — his first competition since last August — Phelps delivered a vintage performance, coming back from last place at the turn to win the 100-meter freestyle with a time of 49.72, edging rival Ryan Lochte (49.77). The race came only 25 minutes after both swimmers faced off in the 200-meter individual medley, which Lochte won at 1:58.70, with Phelps third at 2:00.01.
Afterwards, Phelps said he felt as if a "switch" went on just after the turn in the 100 free. "Tonight was my best night of racing," he said. "It's a good starting point."
For the meet, Phelps had wins in the 100-meter freestyle and 100-meter butterfly, plus the third in the 200 IM. In his fourth event, the 400-meter freestyle, he pulled out of the consolation finals after failing to qualify for the "A" finals.
"It's like old times," Lochte said.
Still, it is easy to fall into the trap of reading too much into the numbers and of comparing Phelps's performance this week with the one he delivered a year ago in the same meet, when he was coming out of retirement and racing for the first time in 20 months. In such a reading, Phelps would appear to have gone backward: In the only event he swam in both meets, the 100 butterfly, his time slipped slightly, from 52.13 in 2014 to 52.38 this week. (And both times were well off his world-record mark of 49.82, set in 2009.)
But the situation is more complicated than the black-and-white of official times. Phelps's training this year with the North Baltimore Aquatic Club has been significantly more intense and sustained, leaving him intentionally drained — instead of "tapered," as he would be heading into a major international event.
As longtime coach Bob Bowman put it, "Last year I let him be a little peppy. This time, I trained the living crap out of him."
The training is more intensive this time, Bowman said, simply because this version of Phelps — humbled by his DUI arrest in September, his six-month suspension from USA Swimming and his stint in an alcohol-treatment facility — is more reliable than the version that came out of retirement in 2014.