"Go back to Univision!"
Trump vs Ramos
Alberto Avendaño-oped | 8/31/2015, 11:48 p.m.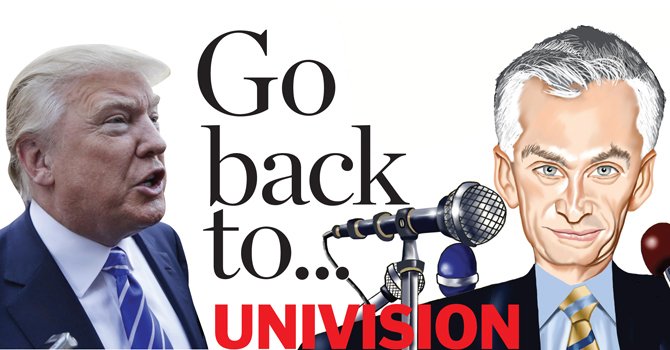 If you want numbers, go to Google. I will say it in a simple manner. The way Jorge Ramos has been saying it for years: Immigration does not bring crime to the US, quite the opposite. It is a source of wealth and one of the economic engines of this great nation. If Trump is the great "manager" that he claims to be he should start by managing his country's reality from a positive perspective. Immigration needs to be properly managed in order to not hold hostage millions of workers who long to move freely in and out the country that employs them. This would certainly avoid the forced citizenship that Republicans so much fear.
Jorge Ramos has the right to be an annoying reporter, even to be impertinent. Donald Trump, as a politician and somebody who aspires to become a public servant, cannot treat a reporter as an uncomfortable chair he moves in or out of his press room depending on his whim.
It seems obvious that Trump's "business model" works well for the candidate and perhaps also for the rich businessman —as evidenced by the multi-million dollar lawsuits against Ramos' company, Univision, chef José Andrés and others who have piqued his anger. But Trump's political model lacks the vision and the mission of a leader who needs to understand that the US is increasingly more urban, more mixed —meaning more racially and culturally sophisticated.
Trump needs to understand that this country is experiencing a transformation at a technological level, in the labor markets, and in its religious fabric. That there is a new morality in the streets of the country and that the military and financial threats to the nation are globalized. That a 21st-century politician must understand that theses changes mean the arrival of a new nation. And that resistance to accepting and managing the new reality of a changing and emerging nation will only bring disaster.
That is why Ramos has the right to incessantly ask questions and that's why Trump has the obligation to articulate answers that reflect a new American reality. But he has yet to do so.
Also of interest