Trull: At Last a Latino Voice
He is the chronicler of the immigrant experience
Alberto Avendaño-oped | 12/18/2015, 10:20 a.m.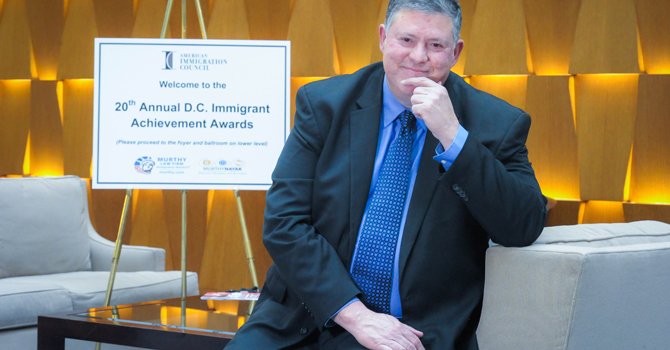 For the past four years, a unique voice has engaged hundreds of thousands of the Washington region's most influential people about our growing Latino community. That conversation has been in English with a little of Español thrown in for seasoning. The voice is that of WAMU 88.5 FM's Senior Reporter Armando Trull. This Cuban-American immigrant and journalist who works at the local NPR station has introduced us to immigrant children and mothers fleeing the most horrendous violence in their native El Salvador. He travelled there twice, alone, to document the dangerously hellish violence generating the recent mass exodus of youth as well as its historic roots springing from a brutal civil war.
Thanks to Trull, we've met gang bosses and pastors; teachers and students; police officers and inmates. Trull has brilliantly traced the links between the gang violence in El Salvador and an increase in violence here. It was Trull's reporting on WAMU that first uncovered the connection between recent murders and an increase in MS13 gang recruitment in the area. The latest example of this groundbreaking coverage is a painful reminder of how no one is immune from racism and bigotry and its insidious effect on even the young.
Trull reported on WAMU and published in El Tiempo Latino an article about how the word "chanchi", which means piglet in Spanish, has become code language to "otherize" recently arrived, traumatized Central American youth at some local schools. The fact that the hate-speech was coined by Americanized Salvadoran youth and then picked up by their American peers is shockingly banal.
His reporting illustrates how inattention to the bullying has generated many fights, including some that have led to mass suspensions, expulsions and arrests. Trull's story documents the admission by school authorities in Montgomery County that in order to stop this bullying they must educate not just students and parents but administrators, teachers and staff on tolerance and acceptance.
His story also holds up an uncompromising mirror to those in the Latino community who engage in bigotry or teach their children to do so.
Trull's reporting of the myriad challenges facing thousands of recently arrived Central American youth and their families as well as the triumphs, however small or humble, marks him as one of the premier authoritative chroniclers of the immigrant experience in Washington, DC, metropolitan area.
Trull's work manages to draw attention from many sources. While a reporter at WUSA9 TV, he was spoofed by Conan O'Brian in a short-lived segment called Trull-Busters. More recently, his work at WAMU got the attention of The Washington Post's Sunday Magazine which called him "The Morning Mouth of WAMU" and Washingtonian Magazine which named him "Best on the Scene Reporter in 2015" praising him for his "deep dive coverage" of Latino issues. That coverage has also earned him accolades from major Latino organizations and the community which for the first time heard their issues and their stories covered in a thoughtful and intelligent manner on English language media. It's difficult to find many experienced Latino journalists who are culturally and linguistically competent working for major market mainstream English language media and NPR is no exception. Trull's impact is then two-fold: Presenting stories about the largest minority in the United States to a powerful mainstream audience and subtly heralding that the time has come to acknowledge this reality.
---
Avendaño is Executive Editor of El Tiempo Latino
@AlbertoAvendan1
Also of interest