As Jim Graham leaves D.C. Council, he wonders how he will be remembered
Scandal tarnished the master of constituent service
BY Aaron C. Davis-The Washington Post | 1/2/2015, 11:25 a.m.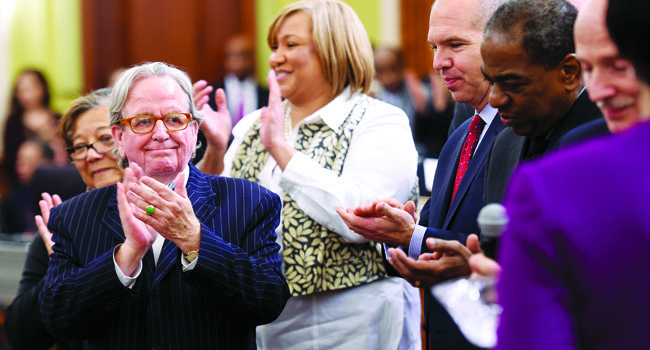 Jim Graham peers at the antique mirror in the hallway of his Adams Morgan apartment to sculpt the bow tie that has been a signature of his 16 years on the D.C. Council.
He has begun thousands of mornings with this mirror. On this day in mid-December, he is preparing for his last council meeting as a city lawmaker. The fabric he has chosen for the final knot is a tightly woven rainbow.
"To represent the diversity of Ward 1," he quips.
In his final weeks in office, Graham is still struggling to accept his defeat in last spring's Democratic primary, a loss he attributed to a corruption scandal that he says tarnished him unfairly with the very residents he was instrumental in bringing into the city. The newcomers who filled the apartment and condo buildings he championed in his ward were the voters who turned him out of office. He wonders, painfully, how he will be remembered after he is gone.
Graham was the council's second openly gay member, arriving in 1998, a year after at-large council member David A. Catania. Graham had made a name for himself as an impatient activist, leading marches and directing the Whitman-Walker Clinic — now Whitman-Walker Health — during the height of the city's AIDS epidemic.
On the council, however, it became Catania, who was first elected as a Republican and later became an independent, who led the charge for marriage equality, medical marijuana for AIDS patients and a host of other LGBT priorities.
Graham took another path, becoming the master of small-bore constituent services. In the District's then-decayed Ward 1, along U Street and north into Adams Morgan and Columbia Heights, no issue was too small for the ubiquitous politician.
After a homicide or drug bust, Graham would be on the scene — whether at 2 p.m. or 2 a.m. But he also would show up for a broken trash can, an inattentive landlord or just a dead rat.
Graham became famous in a cluster of the city's soon-to-be up-and-coming neighborhoods for spending hours each day personally attending to residents' concerns. He would show up on doorsteps, answer every e-mail, tap city discretionary funds for a constituent's electric bill or back-rent payment and hold the hands of senior citizens as they labored to navigate city bureaucracy.
"David is a master strategist who can figure out how to get a major bill passed or a budget approved," Graham said of his longtime political rival. "Constituent services was my cup of tea, definitely, and being able to see small changes but multiplied many times over helping people. This is what I like to do."
The tunnel vision on residents in his ward launched Graham on two crusades, the first aimed at rebuilding blighted neighborhoods and the second at preventing gentrification from harming his constituents. Each helps explain why Graham's office is a mess of packing boxes on this day, and why he is being forced to leave before he would like to.
Graham wanted to bring retail and residential development to his ward, to defeat the drug and street crime that flourished in the abandoned buildings and empty lots of U Street and Columbia Heights. He also sought to protect longtime, often low-income residents who could be easily pushed out as development pressures intensified.