As Jim Graham leaves D.C. Council, he wonders how he will be remembered
Scandal tarnished the master of constituent service
BY Aaron C. Davis-The Washington Post | 1/2/2015, 11:25 a.m.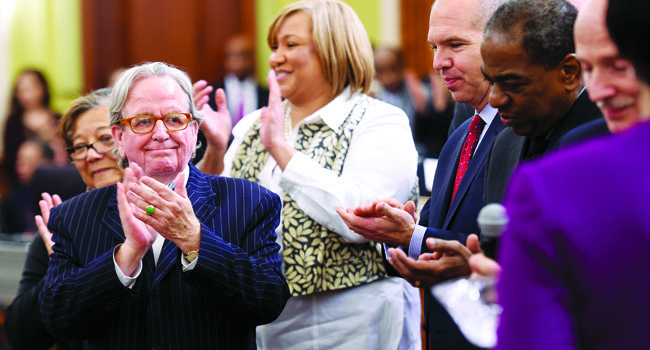 Championing the residents of run-down apartment buildings that lined 14th and 16th streets NW two or three miles north of the White House, Graham pushed through laws to strengthen tenant rights, including giving residents the power to stay in their homes when owners wanted to sell and even to organize and purchase buildings from delinquent landlords.
Graham also re-energized the District's rent-control laws, which city reports have credited with keeping thousands of low-income residents in their homes as prices in downtown Washington have skyrocketed. He worked to ensure that some of the tax revenue generated by the development boom would fund housing subsidies and assistance for those who otherwise could be priced out.
Graham leveraged his council role and two terms as the city's representative to the Washington Metropolitan Area Transit Authority, the board that governs Metro, to push development projects in his ward that would reshape entire neighborhoods. One of the most notable was the complex near the Columbia Heights Metro station that boasted the city's first Target, along with a Best Buy and other stores.
It was Graham's involvement in another project that triggered his downfall. In 2008, he was accused of offering to support a businessman's bid for a D.C. lottery contract if that businessman would abandon an attempt to redevelop a different Metro-owned property.
A city ethics board concluded that Graham wanted to steer the Metro project to a political contributor. And a Metro investigation found Graham had improperly intermingled his council and board responsibilities. Graham called it big-city, sharp-elbow politics and said he had the District's health in mind by trying to keep a businessman who was tied to a U Street business plagued by violence out of a prominent city development effort.
Graham was reprimanded by his council colleagues last year and stripped of his power to oversee District liquor licenses and alcohol issues as head of the Human Services Committee.
The political fallout doomed his bid for a fifth council term.
In a low-turnout Democratic primary, Graham's political machine — the tenant groups and apartment buildings full of low-income residents who had anchored his three reelections — was stymied in part by a newly arrived population of younger voters ready to give challenger Brianne Nadeau a chance.
"She ran around calling me a crooked politician. I don't blame her — she used the ammunition she was given," Graham said in his office, where more than 30 silver-plated shovels from groundbreakings in his ward hint at the transformation he oversaw.
Somewhat ironically, Nadeau's support came mostly from the relatively affluent 20- and 30-somethings who had flooded into the apartments and condominiums that Graham helped create.
"Through it all, he cared about us. He always cared about us," said Renee Floodwright, a tenant leader at Urban Village, a mixed-income apartment building in Graham's ward.
At Graham's final council meeting, he and Catania — who gave up his council seat this year to wage an ultimately unsuccessful campaign for mayor — were presented with crystal bowls by their colleagues.