Jose Andres's Peruvian-Chinese-Japanese restaurant
China Chilcano in DC
By Maura Judkis-The Washington Post | 1/5/2015, 11:09 a.m.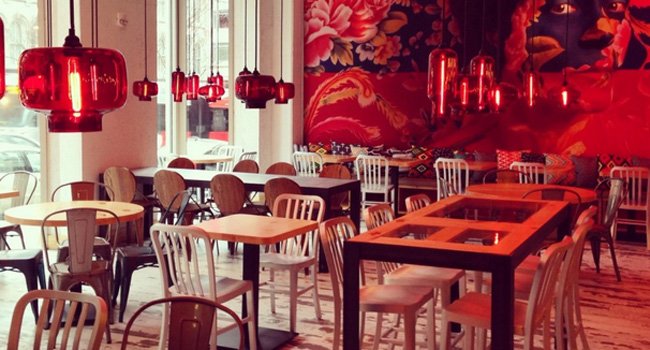 Don't call China Chilcano a fusion restaurant. Yes, it combines native Peruvian, Chinese and Japanese cuisines, but not because Andres decided to randomly put the three together.
Peru has a large immigrant community from both countries, and the food subcultures of Chinese Chifa and Japanese Nikkei cuisines are the natural intersection of settlers who adapted their home recipes with South American ingredients. That's why you'll see dim sum served an aji-amarillo sauce, or nigiri atop purple potato instead of rice, alongside traditional Peruvian stews -- and naturally, a pisco sour to wash it all down.
The restaurant will open for dinner service beginning Monday, Jan. 5. Here's what you need to know about the newest addition to the Andres empire:
Get ready for pisco. China Chilcano's ambition is to amass one of the largest collections of pisco in the U.S. There are more than 30 piscos on the opening menu, with more to come. One of the later additions will be a rare pisco called El Inquebrantable, of which no more than 600 bottles are typically produced in a year; China Chilcano bought 60 of them, so it will hold 10 percent of the year's supply of this rare drink. Of course, you'll find pisco punches and sours on the menu, as well as the restaurant's namesake drink, chilcano, made from Macchu Pisco, lime, Amargo Chuncho bitters and ginger ale. They'll also be importing beers from Peru, including Cumbres, a quinoa-red corn beer, and brewing their own chicha morada, a sweet purple corn drink that will also be used in alcoholic cocktails. Fans of Inca Kola will be pleased to learn that when China Chilcano serves the soft drink, it will be the corn syrup-free, imported version.
Go to the Marketplace, walk through the Elements, end up in Heaven. The restaurant is divided into three distinct areas of design. Marketplace is a dining room with smaller tables, presided over by a mural of a woman with a painted face. The bar is in this space. Moving to the right, you end up in Elements, which takes its aesthetic inspiration from shipping containers and wooden crates. Here, you'll find semi-private dining and larger tables. Over in Heaven, there's a sushi counter, an elevated dining area, and a recessed Japanese tatami table. Throughout the space, neon lighting installations based on Peru's ancient Nasca lines (and reminiscent of works by the artist Keith Haring) swirl above you. The restaurant was designed by longtime Andres collaborator Juli Capella.
The most obvious area of overlap? Sushi and ceviche. Raw fish is a star in both cultures, and some of the most interesting dishes at China Chilcano are south-meets-east interpretations of tuna, crab, mackerel, live scallop and other fish. The leche de tigre, or the citrus marinade that cures the ceviche, is "a lot soupier" in Perucian ceviche, said Rick Billings, who normally serves as ThinkFoodGroup's pastry chef, but worked on research and development for China Chilcano. There's a play on a California roll using a purple potato and cucumber to form the "roll."