Jose Andres's Peruvian-Chinese-Japanese restaurant
China Chilcano in DC
By Maura Judkis-The Washington Post | 1/5/2015, 11:09 a.m.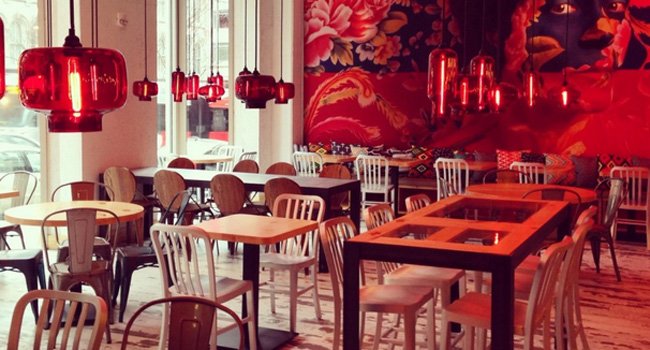 There will be a lobster tank. The langosta reventada dish -- wok-cooked lobster in smoked black pepper sauce -- is made with lobsters from a 300-gallon tank that faces the dining room.
Fish stew will be presented in a bag. Sudado de pescado, a traditional Peruvian stew of red snapper with tomato, potato, red pepper and cilantro, will be prepared in fata paper, a type of cookable clear foil. The stew is composed in the bag, and then cooked on the plancha. A server will bring the bag to your table, where he or she will open it to release all kinds of delicious aromas before plating the dish for you.
Also on the menu: Dim sum, chaufa, noodles, and soups. Chaufa is an alternate spelling for chifa, a type of Chinese-influenced Peruvian fried rice, with tomato, cucumber, and other ingredients. One famous Peruvian iteration of the dish is called "20 vegetable aeropuerto," which Billings says got its name because it was "big enough that you could land an airplane on it." It actually does have 20 vegetables in it, including little airplane-shaped carrots, a playful touch. In the dim sum section of the menu, one of the prettiest dishes is pegao norteno, lamb pot stickers that arrive affixed to a crispy, edible lace.
A popsicle vendor will traverse the dining room. A server will carry a box of fresh fruit popsicles from table to table, letting diners choose among exotic flavors such as passion fruit-huacatay and guanabana, among others. These are in addition to some traditional Peruvian desserts, including suspiro limena, a condensed milk custard, and ponderaciones de kiwicha, a spiral-shaped cookie filled with chocolate cream.
China Chilcano, 418 Seventh St. NW (Metro: Gallery Place-Chinatown). 202-783-0941. www.chinachilcano.com. Opens Monday, Jan. 5.