For kindergartners, a "sí" change
Spanish at Prince George's schools
Ovetta Wiggins-The Washington Post | 1/5/2015, 12:08 p.m.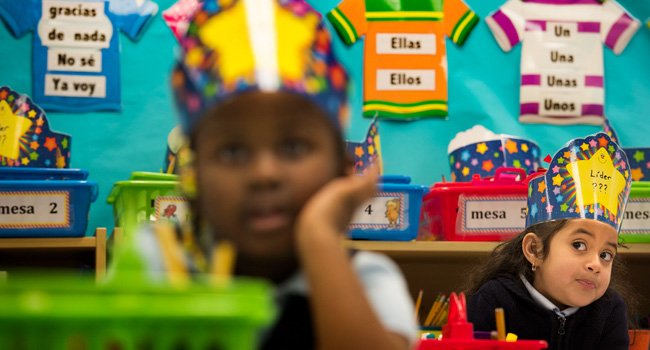 Principal Jose Taboada said the classes are almost evenly mixed with students who are native Spanish speakers and non-native Spanish speakers. He said Spanish-speaking parents are drawn to the immersion school because they want their children to be literate in their native language.
"They don't want them to lose the ability to speak the language," Taboada said. "You'd be surprised. Many, many children lose their language."
Taboada said he knows that from personal experience. His three daughters would read and write Spanish but rarely spoke the language, especially in school. They worried about being stigmatized, he said.
As Mendez wrapped up the hour-long vocabulary lesson, she yelled: "¿Quien esta listo para aprender?" (Who is ready to learn?)
The students responded: "¡Yo estoy listo para aprender!" (I am ready to learn!)
Mendez then moved on to a math lesson.
The whiteboard at the front of the room turned into a grid with the numbers 1 to 100 in each square.
Mendez grabbed her ruler and pointed to each number as the students counted in Spanish, almost as if they were singing a song.
The intensity grew louder the closer the students got to "cien," Spanish for 100.
"¡Muy bien!" Mendez said as she nodded her head in affirmation.
Also of interest