The other State of the Union
in Univision & Telemundo
Alberto Avendaño-oped | 1/21/2015, 4:21 p.m.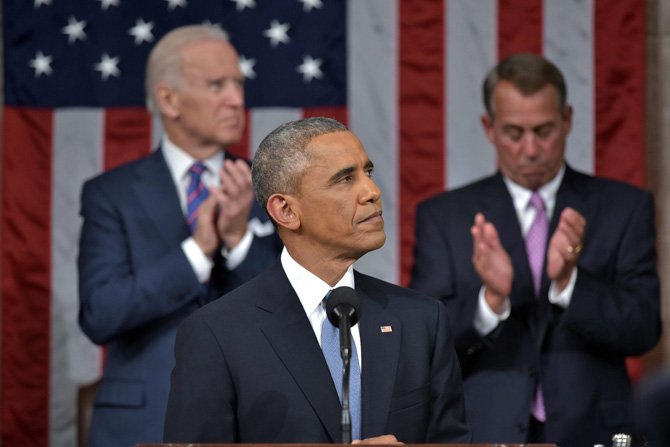 The formal basis for the State of the Union Address is from the U.S. Constitution. After 1913, when Woodrow Wilson revived the practice of presenting the message to Congress in person, it became a platform for the President to rally support for his agenda. Technological changes further developed the State of the Union into a forum for the President to speak directly to the American people. The shortest speech: President George Washington, 1790, 1,089 words. Barack Obama —January 20, 2015—spoke 6,718 words —close to President Lincoln's average.
Members of the press have access to the written speech hours before the President shows up in front of the cameras. But I always watch after dinner, as my private "sobremesa," with delight —looking for those off-script moments, paying attention to body language, scanning faces and gestures as much as the TV cameras allow.
This year I added another element in my State of the Union Address ritual. I checked social media through the corner of my eye. And I fell in love with the comment flow by an experienced reporter in Washington, DC —somebody I respect and appreciate in her intelligent irony. Her name is Patricia Guadalupe (PG) and what follows is a selection of her Facebook postings in real time.
Introduction: The Obama's motorcade left the White House at 7:40 p.m. on a cold, clear night en route to the Capitol for the president's State of the Union address before the 114th Congress. American media were there.
PG: "Hello Spanish-language networks, don't complain when the Dems and the GOP blow you off for the presidential debates and the White House doesn't pay attention when you say you're a real news network. No j... con eso. You got the novelas going on instead of the State of the Union."
PG: "Obama enters the pie in the sky part of the speech about getting along, kumbaya etc, and meanwhile on Univision, the novela has started with a mom crying over her daughter going out with a Don Nadie and on the Telemundo some guy is threatening another guy about some money he's owed."
PG: "Obama mentions Dreamer kids, and on Univision the mom continues the whole discussion with her daughter over the Don Nadie boyfriend."
PG: "Obama is talking terrorism, on Univision the girl is unsure what to do with the guy who likes her, on Telemundo the crying continues."
PG: "Obama talked about Cuba, meanwhile on Univision, the girl continues to be undecided about whether she likes the poor guy ...or the rich guy... On Telemundo the crying has finally stopped."
PG: "Obama is talking about hunting down terrorists; meanwhile on Univision, a woman with huge breasts is having a drink with some guy she's not sure she loves, and on Telemundo the rancher is still trying to convince the girl to go out with him. ‪"
PG: "Obama is talking about free Internet, on Univision the girl can't decide who to love. On Telemundo there's some crying going on."
PG: "Obama is talking about more infrastructure projects which would probably benefit a lot of Latinos in construction jobs, but meanwhile on Univsion, the father of the girl in the short skirt is asking her who is that guy who keeps calling her and he looks poor and don't pay attention to him, and on Telemundo, the rancher is insisting that the girl in love with the priest (he of course doesn't know that) go out with him."‬
PG: "Obama is talking about lower mortgage premiums and free community college, and meanwhile on Univision, the woman in the short skirt is talking to her best friend who is secretly in love with her boyfriend and seeing him on the side, and on Telemundo, the rancher has come by to talk to the girl in love with the priest."
PG: "Obama is talking about universal childcare which will probably benefit a ton of Latinos, but over on Univision, a woman with a lot of makeup and a short skirt is crying over loving some guy who doesn't pay attention to her, while on Telemundo the fight continues with the two guys loving the same woman who prefers to hang out with the parish priest."
Final score:
‪#‎SOTU‬: 1
Univision & Telemundo: 0
Avendaño is Executive Editor of El Tiempo Latino
alberto@eltiempolatino.com