Hogan sworn in as Maryland's governor
John Wagner and Jenna Johnson/TWP | 1/22/2015, 10:46 a.m.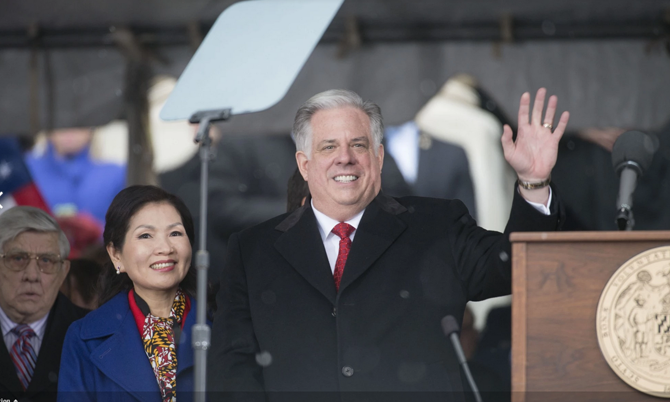 Gov. Larry Hogan took office Wednesday calling for a new era of bipartisan cooperation even as he declared that Maryland fell short economically under the policies imposed by Democratic leaders.
Hogan (R), an Anne Arundel County real estate executive, pledged to be a champion for "beleaguered taxpayers" and the "forgotten middle class" — and declared Maryland "open for business" again.
"We must get the state government off our backs, and out of our pockets, so that we can grow the private sector, put people back to work and turn our economy around," the state's 62nd governor told an enthusiastic audience of more than 1,500 people who gathered outside the State House in Annapolis on a cold and snowy afternoon.
The flakes began to fall just before the ceremony started, and they intensified as Hogan — who had run for office before but never won — stepped to the lectern. "They said it was going to be a cold day in Hell before we elected a Republican governor," he quipped, eliciting cheers and laughter.
Hogan was introduced by New Jersey Gov. Chris Christie, another Republican embraced by voters in a blue state, who became one of Hogan's biggest cheerleaders during the campaign. On Wednesday, Christie described Hogan as a chief executive "ready, willing and able to lead this state to a bright new future."
In his 18-minute speech, Hogan called for an end to "partisan shouting" but included no policy specifics, which Democrats have been pressing for since his unexpected defeat of Lt. Gov. Anthony G. Brown (D) in November. Hogan is scheduled to hold a news conference at noon Thursday to outline the budget that he is slated to submit to the legislature by Friday.
"It will be the first glimpse we see of the road map of where the governor wants to take us," said House Speaker Michael E. Busch (D-Anne Arundel).
Hogan's spokeswoman said Wednesday that the governor was halting some last-minute rules put forward by outgoing Gov. Martin O'Malley (D), including regulations aimed at curbing farm pollution on the Eastern Shore. The regulations, required to be published on Friday to take effect, will be reviewed by the new administration and could be opened up for additional public input, spokeswoman Erin Montgomery said.
Mostly, however, Wednesday was about celebration — including a traditional 19-gun salute after Hogan's swearing-in. Hundreds of people stood in a line waiting to greet Hogan and Lt. Gov. Boyd K. Rutherford (R) in the first-floor rotunda in the afternoon.
Among them was Louis Stack of Upper Marlboro, who said that before Wednesday, he had been hesitant to share with friends in Prince George's County that he voted for a Republican. Stack, 70, said that Hogan got his support because he seemed to understand what businesses need.
"I want to see some of the big technology firms come to this state the way they have in Virginia," said Stack, a technology consultant. "We need the jobs."
Nancy Griffin, 82, said the governor's call for an end to political polarization resonated with her. While campaigning for him in Montgomery County, she heard over and over again from voters who were tired of partisan bickering, tired of taxes and tired of a government that they believed had fallen out of touch.