Hogan sworn in as Maryland's governor
John Wagner and Jenna Johnson/TWP | 1/22/2015, 10:46 a.m.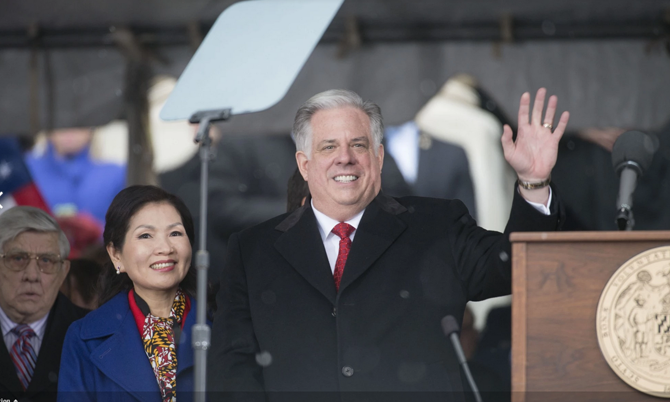 "The country and its people have to be first.," said Griffin, of Potomac. "The rest will fall in place."
Wednesday began with an interfaith church service in Annapolis, and ended with an inaugural ball at the Baltimore Convention Center. Before the gala, Hogan joined a packed VIP reception at the Baltimore Hilton, where guests drank champagne and munched on shrimp scampi and crab cakes.
Among the guests was Maryland Senate President Thomas V. Mike Miller Jr. (D-Calvert), who declared the evening the start of a bipartisan renaissance in the state.
Hogan worked the room, flanked by watchful security guards and surrounded by cellphone cameras. An Annapolis band, Bobbi and the Believers, thumped out '70s funk and disco.
"That's the sound of taxes going down," said Tracie King, president of an optometrists' trade association.
At the convention center, the dancing paused at 9:15 p.m., when Hogan appeared onstage with his wife, Yumi Hogan, their three adult daughters and a 2-year-old granddaughter, Daniella Valez, whom the governor called "the love of my life."
"It was a great day, wasn't it?" Hogan said to cheering donors and volunteers. "Now the hard work begins."
Hogan and Rutherford took their oaths of office shortly after noon inside the State House. The exercise was then repeated outdoors for the larger crowd. Mary Ellen Barbera, chief judge of the Maryland Court of Appeals, the state's highest court, administered the oaths.
Hogan used a Bible — held by his wife — that had been used in the 1950s by then-Gov. Theodore R. McKeldin, the last Republican governor in Maryland to serve two terms.
Politicians in the crowd included O'Malley, who was term-limited, and Brown. Former governor Robert L. Ehrlich Jr. (R), whose Cabinet included Hogan and Rutherford, offered introductory remarks.
In his speech, Hogan said he was hopeful the inauguration would mark "a new beginning for Maryland and the limitless possibilities before us." He pledged to put aside partisanship and strive for a "common-sense, solutions-based government" and "a place that we can all be proud of again."
"What I envision for Maryland is not just an economic and fiscal recovery, but a rebirth of our spirit and a renewed commitment to our common purpose," Hogan said. "Too often, we see wedge politics and petty rhetoric used to belittle our adversaries and inflame partisan divisions. But I believe that Maryland is better than this. . . . It is only when the partisan shouting stops that we can hear each other's voices and concerns."
Hogan choked up as he talked about another Maryland politician who was sitting behind him onstage: his father, Lawrence J. Hogan Sr., a former congressman and the last Republican to serve as Prince George's County executive.
The elder Hogan was the first Republican in Congress to announce his support for the impeachment of President Richard M. Nixon (R), an action his son said "taught me more about integrity in one day than most men learn in a lifetime." He then turned away from the lectern to give his father a hug.
Also of interest