Young, accomplished, undocumented
 "Risers" is a documentary featuring 4 local achievers in Washington, DC
David Montgomery-The Washington Post | 6/4/2015, 4:12 p.m.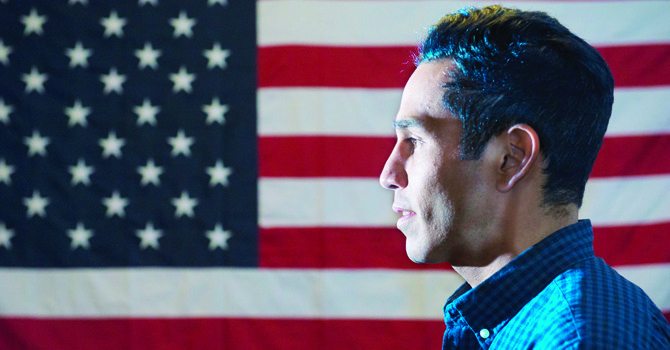 Álvarez is one of four undocumented immigrants in Washington on whom Fernández focuses, along with Brenda Pérez, 19; Gerson Quinteros, 20; and Douglas González, 22. All arrived as unaccompanied minors to find parents who had immigrated earlier to provide for their families.
The project is hard to define, not just because Fernández is working in both video and photography. After the effort began a year ago, word spread, and the director of the work-in-progress and his protagonists began receiving invitations to visit high school classrooms and after-school programs. "Risers" became a road show.
Some of those audiences consisted mainly of non-immigrants. To them, Álvarez and her cohorts would confide the realities of undocumented lives - the dangers of the journey, the bittersweet reconnection with parents, the obstacles to paying for college, the fear
In front of groups of immigrant students, they offered practical advice on how to make it in a not always welcoming new land - how to find scholarships, how to apply for temporary legal status, how never to give up.
"People might think I'm crazy, but I want to build a business and create hundreds of jobs," Álvarez told a class of 12th-graders at the Maret School. "I have a work permit; I'm here to stay."
A girl in the class had tears in her eyes. Her mother is from Perú, she said, and she has an undocumented cousin.
Fernández folded these encounters into the film and photography, and they shaped the result in ways he hadn't expected.
"Who am I making this film for was always the question," says Fernández, 36, the American-born son of Bolivian immigrants, raised in North Arlington. "I think it's turned into really a piece for young immigrants. They're going through the exact same challenges" as the four in the work.
The four do not fear that the project will call attention to them. They qualified for temporary legal status offered by the Obama administration, allowing them to work while pursuing college. On the contrary —even though the temporary protection from deportation could be canceled by a future administration— they welcome attention being paid. "I want everybody to know about us, the whole United States, because I believe we're an example that you can accomplish anything," Álvarez said in an interview.
"Risers" is having a preview weekend at the Hierarchy Gallery in Adams Morgan, and Fernández is planning additional presentations at Hierarchy or other spaces in town. Rather than create a straight, short documentary, Fernández opted for something more stylized and fractured. The video is distilled to a 20-minute collage of the four lives, along with large photographic portraits of the characters.
"It's a mosaic of who they are, but still trying to make a statement about their identity and place in the community," Fernandez says. Quinteros, from El Salvador, who is seen in the film introducing Michelle Obama at a school assembly, just finished his sophomore year at UDC in computer science and works as a soccer coach. González, also from El Salvador, is a musician active in his church and works at a gourmet sandwich shop.